All Mercedes Diesel Passenger car engines 1968 to 1999
FITS THE FOLLOWING: All Mercedes Diesel engines from 1968 to 1999. This includes 115, 123, 116, 126, 201, 124 and early 140 chassis. Also 210 Chassis E300D to 1999, 220D 240D 300D 300TD 300CD 190D 300SD and 300SDL. Here is the factory style return fuel hose ( line ) you need for your diesel engine injectors. Do not try to use regular rubber or plastic line. 60 inches or 5 feet in enough to do all 61x and 60x engines including the 6 cylinder. In most cases you will have hose left over for spare pieces ( carry in your trunk..! :-) ) Replace those old brittle and cracked lines before they leak on you and ruin your fuel mileage AND LEAVE YOU STRANDED! PLEASE NOTE: This injector hose works fine with straight vegetable oil (SVO) but if used with Biodiesel you will have to change it every 9 to 12 months to avoid problems.
Diesel Fuel Injector Return Braided Hose with Instructions - 60" LENGTH
$16.95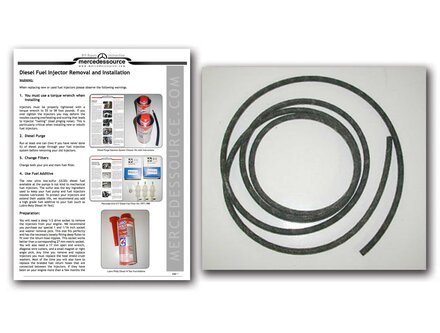 Product Details
To prevent leaks and possible hose failure injector return hose should be replaced every time you remove and replace your fuel injectors.
Pictured PDF instructions are specific up to 1985 models but principles of installation also apply to later models.
IMPORTANT ORDERING INFORMATION.  If you order more than one length it will be shipped in individual pre-cut 60 inch lengths. 
End plug is not included with this hose. If you need the small end plug see below to order.
_______________________________________________________________________________
How to view the PDF digital instructions:
Once you complete the purchase of this product you will be able to download the digital instructions immediately when you are logged in and on your personal account page (click on My Account). Any PDFs will show up under My PDF Manuals. You will be allowed three downloads, so please save the file on your machine for backup.
_______________________________________________________________________________
Related Products:
---