Part 1 of 3 Parts: For Mercedes brake calipers from the early 1960's to the late 1990's
You can save a lot of money if you can rebuild your old brake calipers, especially on some older models. If you can just get the pistons out of the housings, most calipers are rebuildable, unless they have been subject to road salt or have sat exposed to the weather for years without use.
Brake Caliper Rebuilding Part 1: How to Remove Frozen Pistons From Brake Calipers - On Demand Video
$6.99
Get it for Free! This is available as a free add-on item. Review the product details for bundle options.
On Demand Video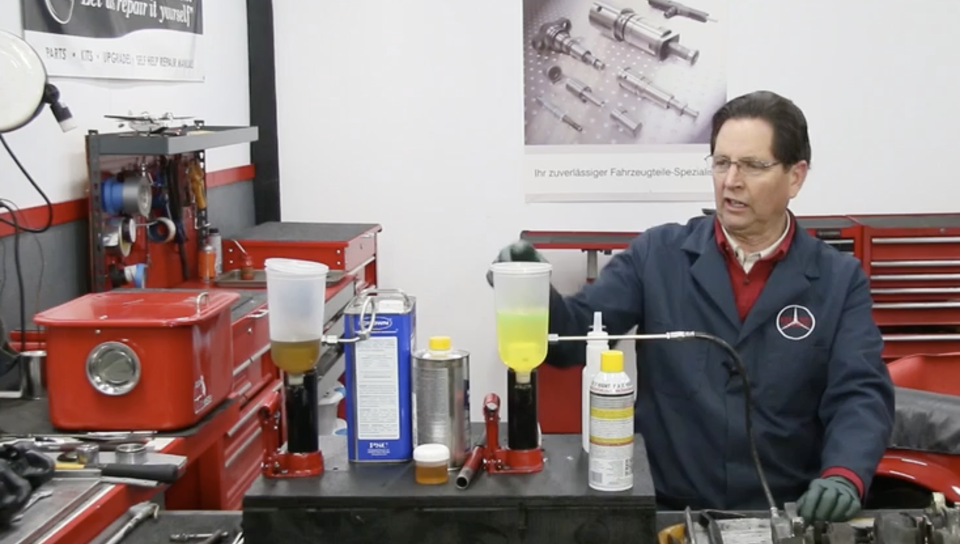 Product Details
Video Preview:
In this video Kent will briefly mention two other ways you can remove the piston or pistons from the calipers. One method will work just fine it the pistons are not rusted (stuck) in. The other method popular on YouTube Kent does not recommend. When they are really frozen you will high more pressure to push them out. Most of this video will be focused on how to use Kent's fuel injector bench tester to hydraulically "force" the pistons out. 
In order to use this method, you will need either the gas or diesel mercedessource bench mount pressure tester along with the special adapter line and hose (available for purchase separately if you already have the tester). See links below in related products to learn more about this tester and the adapter hose.
This video DOES NOT cover removing the caliper from the car or cleaning and rebuilding it. It only covers the procedure of removing a stuck piston or pistons from the caliper housing.
Total run time: 20:59
IMPORTANT NOTICE: For additional videos in this series and to purchase Kent's special brake caliper overhaul tool kit see related products below:
---
How to view this on-demand video:
Once you complete the purchase of this video you will be able to view it immediately when you are logged in and on your personal account page (click on My Account). The video(s) will show up under My Video Manuals. The video is NOT downloadable to your computer or mobile device, but you will be able to view it anytime, from anywhere and from any device as long as you have internet access and you are logged in to your account at mercedessource.com.
Important note: This video manual may or may not include all the information you will need to troubleshoot and/or repair your specific problem/s. Please read the full description carefully to determine if this video is applicable to your year and model and contains the information you are looking for. If not, please refer back to our "Solutions Finder" and enter your chassis number and the specific problem you are having to see if we offer a solution.
Related Products:
---