Injectors do not last forever. Changing over to Monark nozzles can boost performance!
Of all the upgrades for diesel engines that we offer on this site, I believe changing over to Monark injector nozzles will give you more performance improvements for the money than any other single product. From our own diesels to the glowing reports we hear from our customers - you may have a hard time believing just how true this claim is until you experience it first hand! Monark nozzles are probably the last of a breed; yes, they are still manufactured in Germany...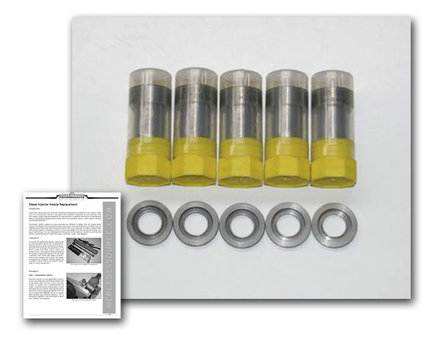 Problem & Solution
Common among these chassis:
W115
W116
W123
W124
W126
W201
Not only do we offer nozzle replacement kits with free heat shield washers, we also offer cleaning kits and shim adjusting kits as well as a bench tester. For those of you who do not have the time or inclination to rebuild the nozzles yourself, we also offer complete rebuilt injector sets for select models.
Rebuilding your own injectors at home is easy if you have the right information and tools.
Look below to see all related products.