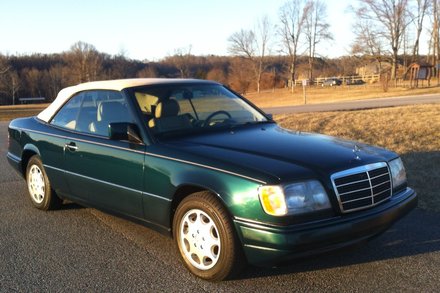 Hello again Kent, 
Here is my other classic; a 1994 E320 Cabriolet
that I'd also like you to post in the gallery.  About 2 years ago I was
looking on Cars.com for a 1990s Merc SL -- which I've wanted all my life
and which are now at the bottom of their depreciation cycle (i.e. lots
of good ones can now be bought incredibly cheap) -- and I found several
that looked great, but for some reason I just couldn't make myself "pull
the trigger" on one.  But then, this rare 4-seater E320 Cabriolet popped
up and I instantly knew it was the one I wanted-- the lines are just
gorgeous-- much better looking, I think, than the SL.  This classic sold
new for around $90k but I bought this one --still in excellent shape,
zero rust,  amazingly clean underneath, a brand-new top and with only
88k miles on it-- for only $8,500 !  The color-combination was the
clincher for me; emerald green with tan leather interior and tan top
(I've never seen another one with a tan top--?--I don't know if it was a
factory color option--but it looks fantastic.) A Ford dealer had it down
near Orlando, FL.  He got it as a trade-in and just wanted to dump it
off.  Having only seen pics of it on my computer, but having the
dealer's verbal assurance that it was very, very nice, I sent him the
money in advance, flew one-way down to FL and drove it home back to WV.
To do that, of course, is somewhat risky, but the car drove like a dream
all the way home, and still does!  The straight six motor is wonderful--
smooth and powerful (217 hp).  The car is so beautiful I just stare at it sitting in my
driveway and think, "Do I really own this gorgeous Mercedes?"  It makes
me happy!  I don't actually drive it much-- I treat it as a
garage-queen/ weekend cruiser--- and I consider it a decent  investment.
If I take care of it I can enjoy it for years and still always know that
I can probably get all my purchase money back anytime I want to sell it.
You can't beat that.  Better than having the money stuck away in a
savings account!  When I do take it for a spin, if I stop at a store, of
course I park it well away from the other cars to avoid any parking lot
dings.  Frequently when I return to the car, there will be one or two
complete strangers standing around it just admiring it.  This 21 year
old convertible actually "draws a crowd".  Of course they question me
all about it and give me many nice compliments.  Again, that kind of
stuff just makes you feel good.
    Thank you again, Kent, for all your EXCELLENT
instructional/repair videos and manuals that you provide us.  They are
all FANTASTIC!!
Best Regards,
David Ansell (Attorney at Law)