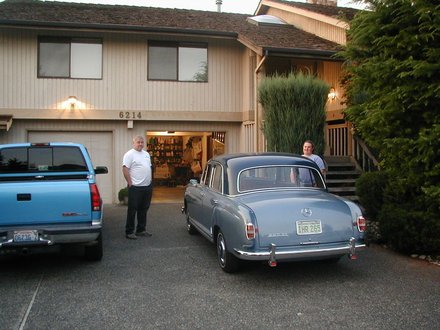 My story starts 20 years ago when a fellow dropped by my shop from Seattle to pick up some parts. He told me that he knew of an old Benz that his former high school shop teacher owned. They still kept in touch with each other. Apparently, it had been in the family since new and sitting in his garage since the early 1990's. I asked him what model is was and he could not tell me, but as we walked around he pointed out an old 220S Ponton parts car I had and said, " It looks like that, but I know it has a fuel injected engine." Right away I guessed what he was talking about. I knew Mercedes had put the 220SE injected engine in a few of the sedans they built in 1959 and 1960. I thought to myself, "Could this be one of those rare models." I asked him if he knew if it was for sale. He told me when he got back to Seattle that he would check and let me know.
A week later he called and told me the owners would be willing to talk with me. They might be willing to sell to the right party. I knew the courtship was on. I called them and they graciously offered to allow me to see the car. When I drove down the first time and opened the garage door I was amazed at what I found! Talk about a rust free and super clean Ponton. I walked around it once and knew this was a very special car. The woman told me her father purchased it new in 1959 at the Mercedes Dealership in south Seattle. They explained that it had not run in over 5 years and the brake wheel cylinders and brake shoes were currently off the car in preparation for a break overhaul.  The car had received a new original color paint job in the early 1980s and it was still in super condition. Interior was also all original and very nice. Only the wood was faded and needed refinishing.
After another trip down to see the car and a few more weeks of negotiation they agreed that I was the person who should own the car. They knew I would get it going again and take good care of it. So I connected the car trailer and headed south. The picture above is a picture I took when we rolled it out of there garage in preparation to winch it up on the trailer. I was very excited as I towed it away. Since it was not running I was not all that sure about what I was buying, but I was very optimistic.
Over the next 3 months I went completely through the brake and fuel systems. The fuel pump has to be replaced and the tank had to be removed and boiled out and sealed. I had this done at a local radiator repair shop. Brakes required a number of new lines and hose, new expensive wheel cylinders, and rebuilt brake shoes. The master cylinder and brake booster had to be rebuilt as well. It was an exciting day when I first started the engine.  It ran on only three cylinders for about 10 minutes and finally kicked in on all six.  I put some heavy concentrate fuel injector cleaner in the tank and took it for its first drive. What a trip down memory lane and what a ride! The car had amazed pep and road handling for a 1959. Do you remember what it was like to drive a 1959 American car - or should I say herd down the road?
For the past 10 years I have really enjoyed owning and driving this car. All I have done since then is to add some better chrome parts off another Ponton 220S that I ending up selling. It always causes a lot of attention anywhere I go and park.  I have used it for numerous weddings including both my sons.  We named the car Belvedere and it has stuck.  My kids now will not let me sell it. I think they want to see their children get married some day and drive off in the wedding car....