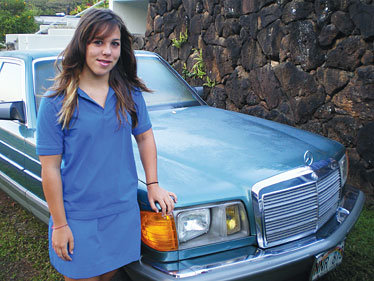 Grease on Hawaiian Style!
Green machine runs clean
By Olivia Klein
Junior, La Pietra
 
"A high school girl creating an environmentally friendly car? Get out!" This is the reaction of many people when I tell them about my Junior Year Independent Project for La Pietra. The next questions are inevitably, "Are you really gonna follow through with this? Who's going to do most of it, your dad?"
My answer to the first is, "Yes, of course!" And the answer to the latter is, "No, my dad will help me to learn parts of the car and the mechanics of how to take things apart and put them back together, but I can do the project myself."
I think everyone can make a difference when it comes to being good stewards of the environment, so when it came time to pick my junior-year project, the big long-term activity and learning experience every girl at our school has to accomplish, I wanted to think big and "think green." This is what I've wanted to do for a long time: contribute to the cause of sustainability and find ways to enjoy our conveniences, like driving our own cars, while doing so in a way that has a neutral environmental impact.
To help in the preservation of a healthy environment is to contribute to my own future and to the future of others. "Help others while helping yourself" happens to be one of my mottos, and I'm staying true to it in an extraordinary way by creating this car.
As the La Pietra delegate to the Hawaii 2050 Sustainability Summit last September, I learned so much about the meaning of sustainability and the creativity it's going to take from everyone to achieve it. I learned from the legislators and the experts in the field that the efforts toward this goal will come not only from the government and our elected officials, but also from individuals taking initiative to do things differently and "think outside the box."
During breaks between speakers, my mom and I talked to people at our table and learned about biofuels made out of vegetable oils being developed on the Big Island, people starting organic farms using nongenetically engineered seeds on Maui and other projects to help our planet and the local economy.
One of the women at my table had converted a diesel car into a biofuel car. "It's really not that hard," she explained. I had thought about this as a good hands-on project, and the experience I had at the Sustainability Summit sealed the deal for me.
I thought that if I did the project, I would show other high school students that they could also do something interesting and helpful.
I began the project by researching how the conversion is done. There are so many resources out there, it's really unbelievable. Thank goodness for the Internet and Google! Before I knew it, I had all kinds of information and contacts to call to learn more about where to get the parts and how to do the conversion of the car. A car, yes. I would need to find one of those, too -- a diesel car, since regular gas-powered cars are much harder and more expensive to convert to biofuels.
I got my game plan organized and mapped out everything from my potential sources of vegetable oil (restaurants) to the supplier from which I needed to order my conversion parts.
In addition to what I have learned about sustainability, this project has really given me some practical life skills. I feel confident that if I don't know how to do something or where to get the materials for a project, I sure can find out.
I learned how to shop for a used car, haggle over a price, negotiate payment and get the title to the vehicle. I also have learned how to canvas businesses for donations and support. In this case, the food service businesses for their used cooking oil: my power source.
I also have learned how to wade through all the technical jargon in the "how-to" instructions and figure out how to read mechanical diagrams to do the actual work on the car. I am still in the process of conversion and will finish up the project by the end of March.
I look forward to getting my driver's license and driving to school in my new and improved "green car," whose only emission is a little bit of water vapor! All in all, it has been a great experience, and I'm thankful that my mom and dad have been so helpful and supportive in this whole process.
Independent, creative, community-service oriented, self-assured (but humble!) and FUN are some of the characteristics that come to mind when I think of my La Pietra classmates. Other girls at my school are working on some really cool initiatives and personal causes, too. I'm proud of what we are accomplishing.
The Junior Independent Project is a great opportunity to take what you are passionate about and create a learning experience that expresses who you are and where you are going. In my case, I guess you can take that literally!
Olivia Klein