Ball joints and pivot points should be lubricated on a 6 to 12 month basis
Keeping your throttle linkage ball joints and pivot points well lubricated is very important. I have seen throttles stick wide open due to this neglect and that can be very scary. The problem is most often caused by corrosion on the throttle linkages at or around the engine valve cover. When the linkage balls and/or lever posts corrode they can stick and prevent the throttle from returning to idle.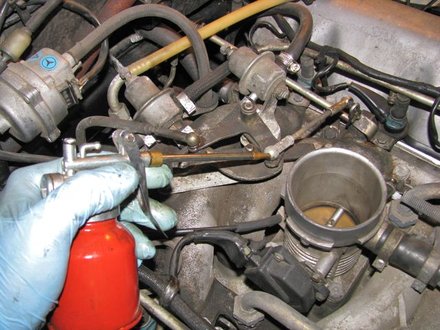 Problem & Solution
Common among these chassis:
Classic Sedans
Ponton
R107
W108 W109
W110 W111 W112 Sedan
W111 W112 Coupe
W113
W114
W115
W116
W123
W124
W126
W201
Lubrication becomes even more important on cars older than 20 years and especially on those that are not driven regularly. This applies to both diesel and gas vehicles. You want a lubricant that is not too greasy (that will just attract dirt and grime). You want a lubricant that does not dry out (like WD-40 I don't like that product....). Automatic transmission fluid makes an ideal lubricant for this purpose. Use an oil can or even a Q-tip to lube each ball joint and pivot point. Do it at least once every 6 to 12 months. Doing this will also make your ball socket joints last longer!
While you are at it you should also check the play in the ball joints. Diesel vibration causes these to wear out early.
CHECK YOUR THROTTLE LINKAGE TODAY!