It all starts with the proper procedure for removing the door panel
W210 door panel removal is fairly easy if you know what you are doing and have the right tools. You will need a couple of plastic trim tools to remove the panel without marring it. You will need to remove the panel to do any number of repairs inside the door. These include, window motor replacement, window regulator replacement, door check replacement, power seat module replacement, door lock repair and rust prevention and repair. 
Problem & Solution
Common among these chassis:
W210
You can see in this picture what happens when the door panel is "forced" off the door. Kent's instructions include some extras like how to repair these broken snap clip brackets as well as how to remove the panel when you can not roll the window down. Now you won't find that information in the factory manual!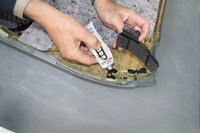 "Clip brackets can be broken off the panel." 
Our door panel removal kit includes complete step-by-step illustrated instructions along with two special plastic trim tools