No Instructions
Fits all 116 Chassis 1973-1980. The best way to restore the original ride and feel of your Mercedes is to replace your shocks with new Bilsteins. There is no other shock that will perform as well. These are OEM COMFORT shocks that give you the smoothest ride. If you car has a lot of body roll or the front end is bouncing more than it use to it is time to replace your shock absorbers.
116 Chassis New Front Bilstein Shock Set of (2) COMFORT
$169.95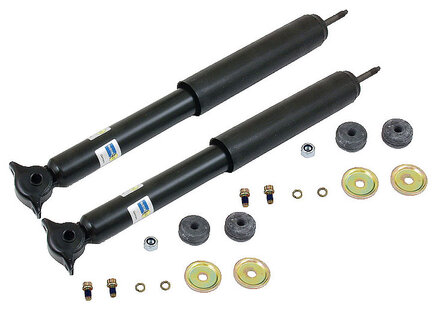 Product Details
Experts agree to not use anything other than original Bilsteins! How can you determine if you do not have the real thing? Look under your car and if your shocks are white, blue, or any color other than black you have imitations. Also look to see if you have any wetness around the top of the shock barrel. If so they are beginning to leak and will fail soon. I am offering this set of two (2) front shocks at an unbelievable low price (we recommend replacing in pairs). Even if you think your shocks are ok you will be amazed at the improvement when you install these new ones.