Fuel Pressure testing is a must for these engines even if they are running "OK." Comes with a free depressurization kit and 3 video instructions.
6/6/23 Update: Now with a liquid filled pressure gauge installed to increase accuracy and reliability. We customize, test and recalibrate this fuel pressure tester before we ship it. You would not believe how many pressure testing gauges we test that are not accurate ( even some of the more expensive ones ). Watch the video below to learn more.
1970 to 1975 3.5 4.5 D-Jetronic Fuel Injection Pressure Tester w/Extras
$89.00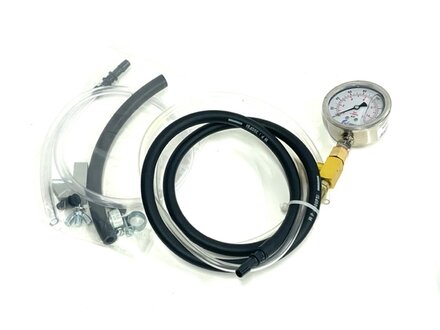 Product Details
Fuel pressure on a D-jet engine is critical - we mean super critical right down to .1 bar. Along with a very accurate gauge,  you have to have a fuel pressure regulator that is working properly. In this kit, we will also include (free of charge) Kent's video on the theory of operation and how to test both the fuel pressure regulator and the fuel damper. 
Before hooking up a pressure tester, you MUST depressurize the fuel rail. The included kit with instructions will show you how you can do this in less than five minutes without having to pull a fuse or relay or disconnect your fuel pump. AND NOBODY ELSE DOES THIS! We even include a new section of high-pressure hose and two new clamps. Most of the time, when you remove the short fuel hose to the cold start injector, you will have to cut it to get it off. :-)
Related Products:
---