Now with PDF instructions and extra hardware
Are you mysteriously losing coolant? Having heater problems? Does your heater have a mind of its own. Then your 201 chassis vacuum controlled heater valve may be bad. There is no way we can guarantee this will fix your heater problems, but considering the price and the ease of replacement it is a good place to start. If the new valve does not improve your system then look for a vacuum leak or problem with your climate control switch panel. Valve is located on passenger side just forward of your firewall.
201 190E 190D Heater Control Valve Replacement Kit
$46.50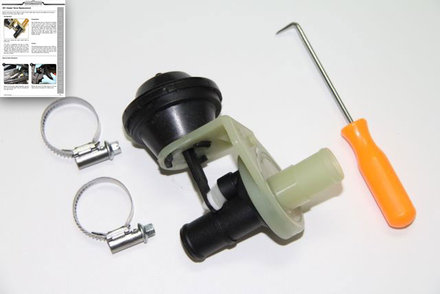 Product Details
Kit comes with new OE (not cheap reproduction) valve, 2 new hose clamps (if your valve has been leaking two of the four hose clamps are usually rusty) and a special pick tool you will need as described in the complete step by step illustrated instructions. Fits ALL 201 chassis 190E and 190D1984 to 1993.
Be sure to view Kent's video on 201 heater valve problems.
_______________________________________________________________________________
How to view the PDF digital instructions:
Once you complete the purchase of this product you will be able to download the digital instructions immediately when you are logged in and on your personal account page (click on My Account). Any PDFs will show up under My PDF Manuals. You will be allowed three downloads, so please save the file on your machine for backup.
_______________________________________________________________________________