ONLY NOZZLES CURRENTLY AVAILABLE
Fits the following: All 4 cylinder diesel engines from 1968 to 1985, including 201 Chassis 190D 2.2.  For 220D 240D and 190D 2.2 Engines - FREE heat shield washers - PDF download instructions included. This is the critical inside wear part of the injector that delivers the fuel spray into the cylinder. These are direct replacement new fuel injector nozzles from Bosch. You can replace just the nozzle for better fuel economy, more power, easier starts, and less exhaust smoke. NOW FREE HEAT SHIELDS INCLUDED!  12-month warranty provided on Bosch nozzles when all assembly precautions are followed (as detailed in included instructions).
4 Cyl 615 616 601 Bosch Diesel Fuel Injector Nozzles w/ Heat Shields
$119.95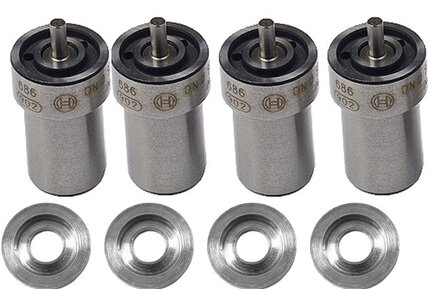 Product Details
We want to help you get your diesel performing better. If your injector tips are worn out you will not believe the difference new nozzles will make. If you need instructions see related products below. The instructions refer to installing Monark nozzles, but all installation, testing and adjusting procedures are the same. 
Related Products:
---