For engines that have the all metal oil filler cap.
Fits 113, 111, 108, 109, 107, 114, 115, early 107 and 123 chassis: Tired of having a hard time getting your oil filler cap off without using pliers. Or are you tired of the unsightly oil leaks around the cap. These gaskets can help solve those problems. I am including 4 gaskets for one to two years supply. This is the wider gasket that comes on the metal caps. (Approx 6cm in diameter and 10mm wide). Be sure to check your current gasket before ordering as this item is non-returnable. If you have the black plastic cap you will likely need the narrower gaskets. Comes with instructions and tips.
Early Oil Filler Cap Gasket Set of 4 - Wide Version
$8.95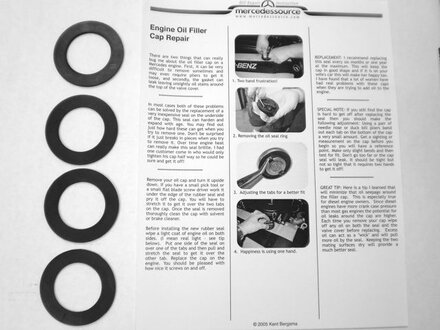 Product Details
_______________________________________________________________________________
How to view the PDF digital instructions:
Once you complete the purchase of this product you will be able to download the digital instructions immediately when you are logged in and on your personal account page (click on My Account). Any PDFs will show up under My PDF Manuals. You will be allowed three downloads, so please save the file on your machine for backup.
_______________________________________________________________________________