14 inches long. Custom made in our shop. Swivel the head 90 degrees and functions as a great long reach nut driver as well.
On a regular basis, Kent and Gerson custom make tools to make certain jobs go easier and faster. So is the case with this long reach ratchet. It was developed to get glow plugs out of the older diesel engines without having to remove the hard lines. Since then we have found all kinds of uses for it ( like a long wobble head screwdriver). WARNING: The long handle does not mean you can use excessive torque, it is for difficult access only. DO NOT use on spark plugs and other fasteners that are torqued over 20 found pounds. Loosen them first with a standard wrench if need be and then use this tool to remove and/or install. Watch the video below to see this tool in action:
Extra Long Reach 1/4 Inch Swivel Head Ratchet Wrench
$28.50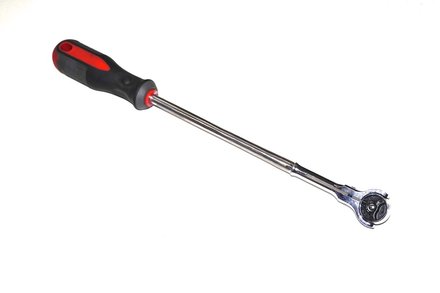 Product Details
PLEASE NOTE: This is a hand made welded wrench made in our machine shop. Please do not expect a precise smooth chrome wrench.