WARNING! Not guaranteed to work on all scratches. WILL NOT WORK ON SAND PITS. Do finger test on wiper scratches BEFORE ordering!!! Read and see more below.
Contains all supplies and video instructions you need - including a high speed power multitool to remove very fine scratches. Purchase together and save $$$$. Ever wish you could get rid of the annoying wiper scratches on your front windshield (or rear hatch glass if you have a rear wiper)? How about those fine scratches in your side windows caused by dirt in the scrapers caused by rolling the windows up and down? Maybe you have water or acid rain stains in your side glass or even shower door glass and want to get the surface looking shiny new again??
DELUXE Windshield Fine Scratch Removal and Glass Deluxe Polishing Kit w/ Power Tool
$84.50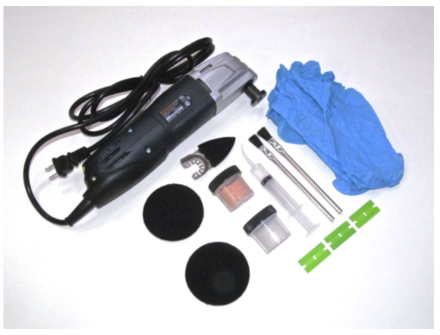 Product Details
With this cool glass polish and scratch remover kit, Kent developed, you can do all that will less mess and less heat build-up that you damage your safety glass. Be sure to watch his YouTube video where he will compare his polishing process with the other more messy one normally touted on the Internet. 
It requires VERY high speed for the polish to cut through glass. We have chosen this single speed to meet that need.  By the way, this tool has become one of Kent's favorite tools around his shop and home. Amazing all the jobs you can do with this tool that you can not easily do with any other tool. If you don't own one here is your excuse to get one!!! It uses the most common attachment hole pattern. Other attachments are available at most hardware stores.
If you want to purchase the kit without the tool see related products below:
This DIY kit includes the following:
***      SINGLE speed multi-tool. The color of the tool may be different than pictured. NO OTHER ATTACHMENTS INCLUDED
    •    Finger polishing attachment for a multi-function tool
    •    2 Velcro backed polishing disks you will need to cut to size
    •    A special compound to mix your own polished paste (the best!)
    •    Empty one-ounce container to do your mixing in
    •    Curved tip syringe to apply small amounts of water when needed
    •    2 acid brushes to mix and apply the polishing paste
    •    3 plastic razor blades to pre-clean the glass
    •    2 pairs of nitrile gloves
    •    Free detailed video instructions
The supplied materials are more than enough to do two to four windshields with minor wiper blade scratches. In some cases, if the scratches are too numerous you may be able to only do one windshield or rear hatch glass. Some scratches can NOT be removed. Run your fingernail along the scratched area. If it catches on the glass then it is probably too deep to completely remove. You can be able to get it to look a lot better though. Other fine scratches that your fingernail does not catch can usually be completely removed with this kit.  Yes, IT IS AMAZING!!!
If you are trying to get the ugly water spots off your side windows this system works great. You will probably need an extra container of the special polish if you have large scratches or large areas of glass to clean. 1 oz. containers can be purchased separately. See related products below:
How to view your free video instructions:
Once you complete the purchase of this product you will be able to view the bonus video immediately. Just log in to your personal account page by clicking on My Account at top of the page and entering your username and password. The video will show up under My Video Manuals. The video is NOT downloadable to your computer or mobile device, but you will be able to view it anytime, from anywhere and from any device as long as you have internet access and you are logged in to your account at mercedessource.com.
Related Products:
---