Don't be too hasty to buy a new one
We have seen or heard of enough unecessary brake booster replacements recently that we decided it was time to put up an alert for our customers. If you have been experiencing a hard-to-press brake pedal and have checked your vacuum source or vacuum pump output - DO NOT assume or let your mechanic tell you that you just need a new brake booster. These are very expensive new. You want to be sure that is your problem BEFORE you spend your hard earned money!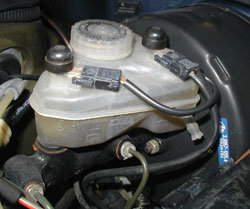 Problem & Solution
Common among these chassis:
R107
W108 W109
W110 W111 W112 Sedan
W111 W112 Coupe
W113
W114
W115
W116
W123
W124
W126
R129
W140
W201
WARNING:
DO NOT BUY A REPLACEMENT BRAKE BOOSTER UNTIL YOU HAVE CHANGED THE O-RING SEAL BETWEEN THE BOOSTER HOUSING AND THE BRAKE MASTER CYLINDER.
This square sided o-ring usually comes with a new master cylinder. It is difficult to find or purchase by itself. I have successfully used general rubber round o-rings as a replacement. Take your current o-ring to you local autoparts or hardware store and find a close match. Even if it looks ok replace it first and then retest your booster. If you are careful on many models you can leave the brake fluid lines attached to the master cylinder to replace this o-ring. That will save you having to re-bleed the system. Remove the two nuts holding the master cylinder to the booster and pull the cylinder forward to gain enough room to remove and replace the o-ring. Use a little grease on the new one for a good seal and to prevent crimping.