At all costs avoid rounding out the hex head of the bolt!
Here is the problem described by one of our customers: "I just recently bought glow plugs along with Kent's DIY guide on how to replace the glow plugs on my 1987 300D. I have run into a bit of an issue I'm hoping you could give some advice on. I'm beginning to remove the bolts to remove the intake manifold using a 6mm hex wrench and have noticed some are not budging. I'm afraid to put too much force on the bolt as they may strip. Do you have any advice/tips to get these bolts out without stripping the bolts? I really appreciate any advice and can't thank you enough for how much you guys have already helped me with the tech videos."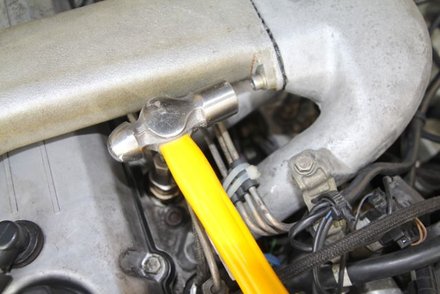 Problem & Solution
Common among these chassis:
R107
W108 W109
W110 W111 W112 Sedan
W111 W112 Coupe
W113
W114
W115
W116
W123
W124
W126
R129
W140
W201
W202
W208
W210
W220
Kent sent along this advice: "There are three methods I have learned. One or the other may work in your situation.
1. Here is an old trick I learned from my days of working on motorcycles. You need to "shock" the head of the hex bolt to allow it to break free of the aluminum part it is tightened against. Aluminum compresses and ends up acting like a lock washer. You shock the bolt head by hitting the top of it with a hammer. If you can not get a hammer down in there use a long punch and a hammer.
2. Another trick is if it will not turn use a long sharp metal chisel and get the side of the head and tap on the chisel to try to turn the head counterclockwise (like you were removing it with a wrench.
3. The final method is to use propane heat to heat the hold and the surrounding aluminum. The aluminum will cool faster and as it cools you may be able to turn the bolt.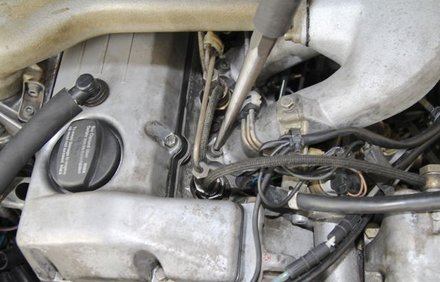 SPECIAL NOTE: Make certain you use a strong and tight fitting hex socket of the correct size BEFORE applying torque to the bolt. In a future part 2 Kent will cover the procedures you need to use if you round out the head of the bolt!
The customer was kind enough to write back three days later and report: "Hi Kent, I tried the shocking the head of the bolt method first and it worked! I really appreciate the advice and assistance. Without it I would be lost pulling my hair out. Once again thank you!"