Indoor lighting can be difficult. Kent has recently found the ultimate solution.
Have you ever been working in your garage on or under your dash and trying to get enough light on the subject. Flashlights don't work very well when working with two hands. Trouble lights are hard to point in the right direction. Many lights just get too hot or the light is not spread out enough!
Problem & Solution
Common among these chassis:
Classic Sedans
Ponton
R107
W108 W109
W110 W111 W112 Sedan
W111 W112 Coupe
W113
W114
W115
W116
W123
W124
W126
R129
W140
W201
W202
W208
W210
W220
Enter Kent's solution.  A LED movie filming light on a long counter weighted camera boom. Now, he realizes you may not have this equipment handy, but it is now not expensive to get a LED movie light. You can rig it up inside the car to shine on the dash and it will not get hot!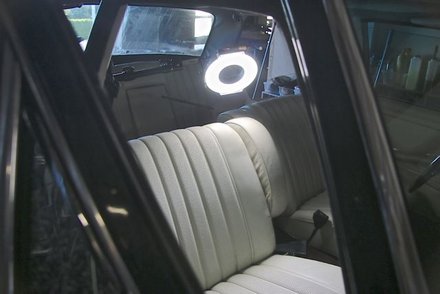 Here are some pictures of Kent lighting up with W108 while he was working on replacing the bushings in the manual transmission shift linking inside the shop....Perfect!