Can be problematic without using the correct tools and techniques
This covers steering wheel removal on most models from 1973 to 1985. You will need to remove the steering wheel while working on the following repairs: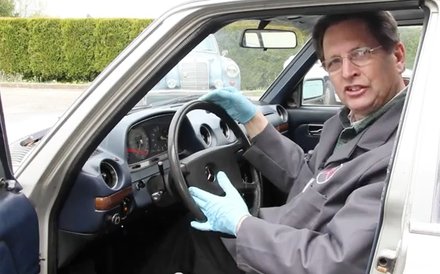 Problem & Solution
Common among these chassis:
R107
W114
W115
W116
W123
W126
When removing the instrument cluster on the 107 chassis
When replacing the turn signal stalk assembly on the 126 chassis
When replacing a worn out or torn steering wheel
When troubleshooting a horn wiring problem
When removing and replacing the entire dash panel
On some of the later models with the hex head bolt that holds the steering wheel to the column you will want to obtain a 1/2 drive 10 mm hex socket. The video will explain how best to get the bolt off without damaging it or the steering wheel lock mechanism.