Tired of holding it up or down in a turn - Kent has a simple fix
An annoying problem on many older Mercedes up to 1980 that have an aluminum housing surrounding the turn signal arm latching assembly. When these wear the lever will not hold position when you push it up or down.  So every time you have to signal a turn you end up having to hold the lever down with your left hand!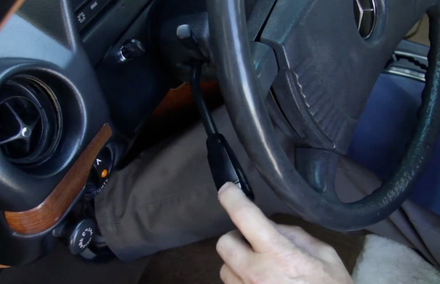 Problem & Solution
Common among these chassis:
R107
W108 W109
W110 W111 W112 Sedan
W111 W112 Coupe
W113
W114
W115
W116
W123
Most shops will have you replace the unit and it is very expensive. On some models new ones are no longer available. If the unit is not broken it can be easily repaired  You will need a dremel type grinding tool with a very small grinding bit to complete the repair. No other cost and only takes 20 to 30 minutes. 
This repair can be perform on the 110 111 112 108 109 113 114 115 116 and early 107 and 123 chassis (most models up through 1979).