Best Way to Solve this Common Fuel Leak Problem
Fits all 123 240D 300D 300TD 300CD sedans, coupes and wagons 1977 to 1985, and All 126 Chassis 300SD from 1981 to 1985. These are the parts you need for the cure to a very common problem. There is nothing worse than fuel smell coming from the trunk of your 123. Gasoline is downright dangerous and diesel is quite obnoxious. The single biggest reason for this smell comes from a combination of two things. The old fuel cap seal starts leaking and the deteriorated fuel tank neck seal fails to keep the fuel from running down the tank neck into the trunk.
123 and 126 Chassis Diesel Fuel Trunk Smell Fix Kit
$32.95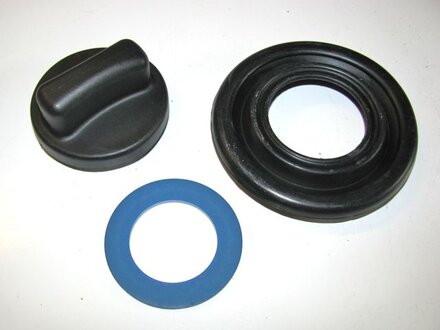 Product Details
The way to fix this is to install a new neck to body seal and a brand new fuel cap. Along with these items we are adding a special upgraded gas cap seal that is touted to last longer than the original seal. This is an easy to install kit (no instructions needed) and you will love the results.
NOT BIODIESEL "PROOF"