Fits chassis ALL PONTONS, 110, 111, and 108 with column shift manual transmission. This set of three ball socket bushings are used on the end of the linkage for column shift manual transmissions from the mid 1950s to the late 1960s. They snap on the ball ends of the three shifting arms coming up of the bottom of the steering column. The old nylon inserts disentegrates with age. When they do, the linkage will just fall off and you will not be able to shift your transmission. It is BEST to replace these fittings BEFORE you get stranded.
1950s 1960s Manual Linkage Shift Ball Socket Set (3 Total)
$49.50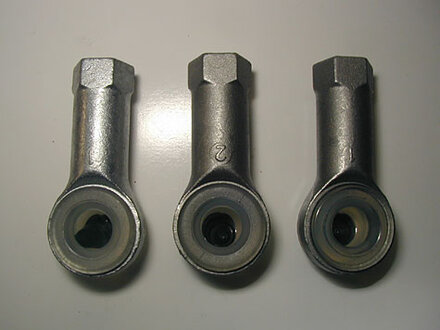 Product Details
SPECIAL NOTE TO ALL PONTON OWNERS: The ball sockets on your car were all steel from the factory and have a spring clip that holds them in place. Many time these get worn and sloppy and sometimes are a real pain to remove and install. These new nylon insert sockets will replace your old steel type without any modification, making for smoother and tighter shifts AND ease of installation and removal.
SKU: TRS-COMMSS