67,000 mile W108 with original paint, beautiful black MB tex interior in garage storage since 1978
Pease read the full description very carefully and watch the video to learn more. This is a non-sunroof four-door sedan. DO NOT TRY TO CHECK OUT ONLINE. Please contact us through the contact link above if you are interested in purchasing this Mercedes. The primary value is in the beautiful complete black interior and the body sheet metal. You can not believe the conditon of the original black interior. It is still solf with like new padding. That is what happens when a car never leaves a warm garage for 40 years! There are MANY missing parts. Here is a summary list of what is not included. The video is out of date. What you see and read here is what you will actually get!
1968 280S Sedan Parts Car for Sale - Body Shell and Interior on Rolling Chassis
$1,150.00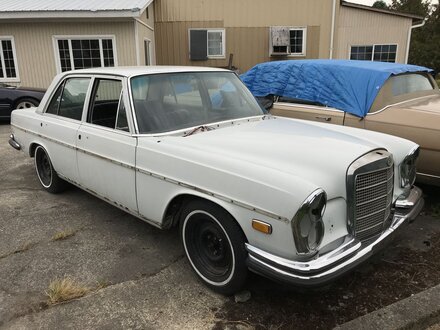 Product Details
Here is a list of most of the main items not included:
No Engine
No Transmission
No Radiator
No Gas Tank
No Brakes
No Steering Column or Wheel
No head or tail lights
No Hood
No Hubcaps
No Door Handles or Trunk Lock
No Crack free Dash Pad or Dash Wood ( the upper dash in it has one crack)
No Door Wood Trim
No Window Regulators or Switches
No Visors or Interior Mirror
No Side Chrome Strips
Many other small parts have been removed
The following parts ARE included but may not be shown in pictures​: Lower dash pad - no cracks (black)
I do have a clean Washington State Title that will go with the car. Other parts may be available for extra $$ upon request.