Auxiliary pump replacement for 1981 to 1985 W123, 1982 to 1989 R107 and 1981 to 1991 W126 with ACCIII automatic climate control.
Since the original style Bosch electric pumps are no longer available, Kent decided to come up with a good alternative. He went to work to adapt the newer style pump found on most Mercedes of the 1990s. Even if your current pump is "working" you should consider this replacement newer style Bosch pump
1981 to 1991 Monovalve Climate Control Electric Water Pump Upgrade
$135.80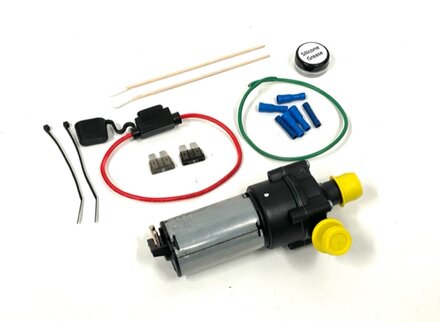 Product Details
The kit includes the following:
New Bosch electric later model coolant pump
Wiring connectors to adapt factory wiring to newer pump
Fuse holder and two fuses for added system protection
Silicone lube and applicators to help with installation
DIY video instructions
See the new pump (on the right below)compared to the old pump (which is no longer available new). The new style has larger diameter nipples and no wiring plug coming off the back of the unit.  Lenth and body diameter are nearly the same so the pump motor will fit inside the original rubber mount. 
One BIG advantage of this newer auxiliary pump is it has a higher volume output. This will give quicker cabin temperature changes, as well as a significant improvement in holding a constant temperature providing the other components in the system, are working properly (temperature sensor, monovalve, climate control panel, and temp logic box etc.).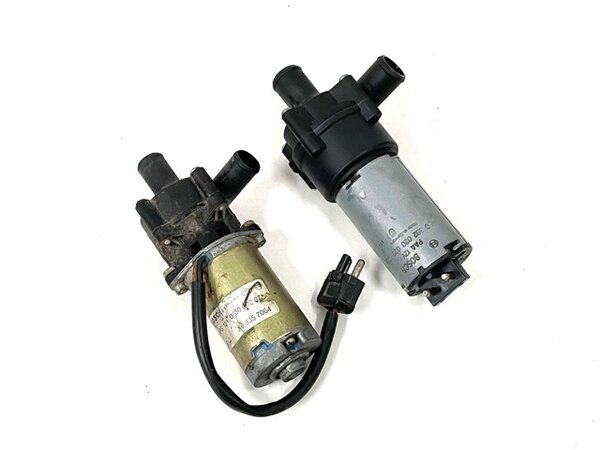 Here you can see this pump installed in a 1984 W123 300D.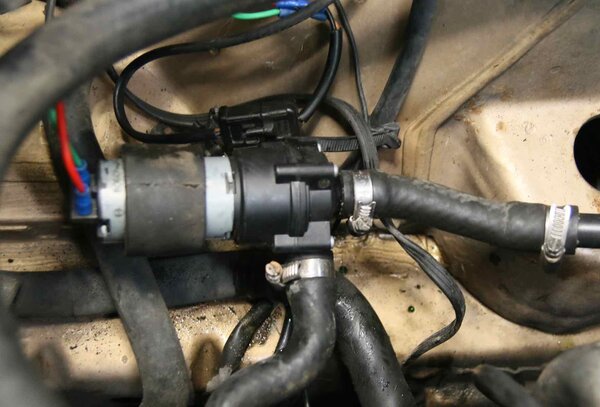 PLEASE NOTE:  This can also work on the ACCII climate control from 1977 to 1981. The installation will be a little different from the video instructions as they were filmed on a later model with ACCIII. You should be able to get it installed and wired in with a little extra effort.