Most models W126 W201 W124 R107 R129 W140
PLEASE NOTE: UPS GROUND SHIPPING ONLY.  Sorry, no postal, expedited or international shipping. This is a highly neglected maintenance item on older Mercedes Benz. If you want to prolong the life of your steering box and power steering pump here's how. Kent recommends flushing out your old fluid, changing the filter and installing new synthetic fluid every 5 years or 30,000 to 40,000 miles. Free step-by-step video instructions on how to do this yourself is included with the purchase of this kit. PLEASE NOTE : If the green bottle FEBI fluid is not available we will upgrade you to the Lubro-Moly without an additional charge. Both meet or exceed factory recommendations. 
1986 to 1995 Synthetic Power Steering Fluid Flush Kit
$43.50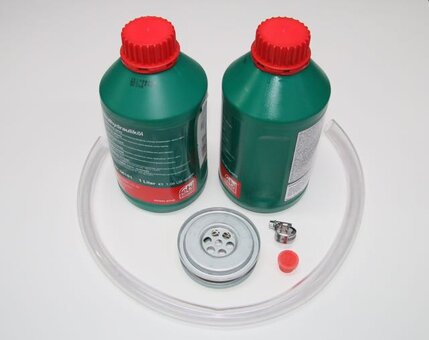 Product Details
This kit contains the following:
2 liters of synthetic power steering fluid
New power steering pump filter
Clear plastic flushing hose with cap
Plug for pump reservoir
Complete video step-by-step instructions with Kent Bergsma
To complete the flush you will need a floor jack to raise the front of the car, plastic gallon jug, some drip trays, and a few basic hand tools.