Our popular Miracle Paste kit now shipped with high speed power tool included! ** PLEASE NOTE: CANNOT SHIP INTERNATIONALLY DUE TO CHEMICALS***
Mercedes 108, 109, 114, 115, 116, 107, 123, 126, 124 and 201 chassis window trim has a super strong anodized coating that is impervious to hand polishing but still can oxidize when exposed to harsh environmental elements. When this happens the trim becomes spotted and milky in color and it is NOT pretty! This problem has plagued many owners over the years and most have just given up and learned to live with it.
Anodized Aluminum Window Trim Polish Restoration Kit w/ POWER TOOL
$106.50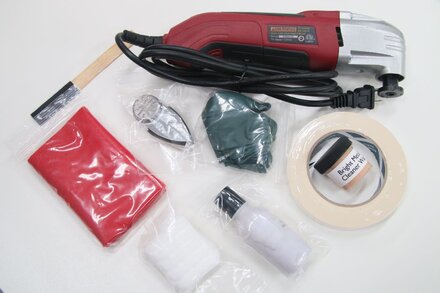 Product Details
Be sure to watch Kent's OTHER  video demonstrating how this product works. CLICK HERE TO VIEW
Now there is a solution! Kent spent 2 months and over 100 hours testing countless products and techniques. He literally wore out his right elbow-rubbing and rubbing! He was almost ready to throw in the towel until he decided to revisit the possibility of using a power tool that would give the same motion as hand rubbing but at a very high speed. Thus, enter the multi-function tool. This tool is known among carpenters and woodworkers as one of the best tools to have on any job. Not much has been said about using it as a polisher, but Kent took on the task of finding the right attachment, the right pad material, and just the right compound. In the end, he mixed a special blend of three compounds that ended up doing the job in a reasonable amount of time.
This DIY kit includes the following:
Finger polishing attachment for multi-function tool (triangle tool)
Polishing pad material to be cut to size
Finger polisher fiber cleaning stick
Special Miracle Paste compound to deoxidize and polish aluminum (1.8 oz squeeze bottle with flip cap)
Roll 3/4 inch masking tape
Bright metal cleaner wax in 1 oz container
Cotton applicators for metal wax
Nitrile gloves to protect your hands
PDF Complete illustrated step-by-step instructions
SINGLE SPEED MULTI-FUNCTION TOOL (with correct mounting for finger polisher).
PLEASE NOTE: The written instructions may show some different attachments that I used years ago in original testing but the kit ONLY COMES WITH ONE MULTITOOL ATTACHMENT AS shown in the picture below ( quick release type).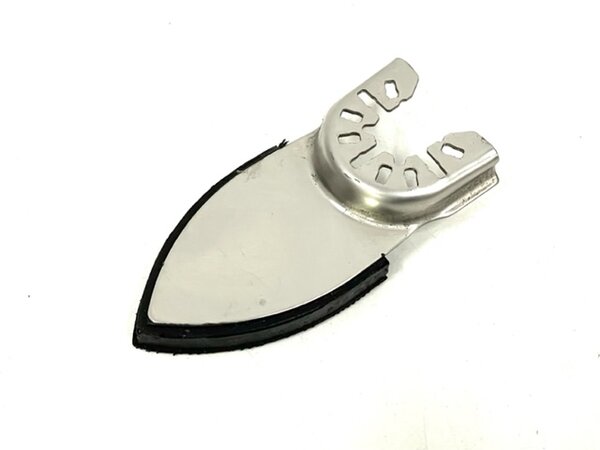 The supplied materials are more than enough to do the average older Mercedes. In some cases, if the oxidation is not too bad you may have enough paste to do two cars. The paste is very expensive and you do not need to apply a lot to get the desired results. And yes, it works on other cars as well as on the bronze anodized trim on the later model 201 and 124 chassis Mercedes.
A special metal wax is included to help protect the trim from further oxidation. Yes, as long as the trim is exposed to the elements the spotting can return. We recommend you wax the trim every three months if you do not garage your car. This can be done in about 10 minutes with the supplied wax and applicator. One ounce of this special wax is enough for 10 to 20 applications. The wax contains a cleaning agent so when you rub it on it will remove any film or chemicals. Do not use harsh detergents on your trim in the future. Avoid automatic car washes if you can.
PLEASE SEE YOUTUBE VIDEO for a demonstration of this kit. 
IMPORTANT: The average car could take anywhere from 3 to 6 hours to restore using this kit and a high-speed multi-function tool. The tool can be one speed or variable speed. The finger polisher will allow you to control where you are polishing and will let you get into tight places on the trim. 
TO PURCHASE RESTORE KIT W/OUT TOOL - See related products below
_______________________________________________________________________________
How to view the PDF digital instructions:
Once you complete the purchase of this product you will be able to download the digital instructions immediately when you are logged in and on your personal account page (click on My Account). Any PDFs will show up under My PDF Manuals. You will be allowed three downloads, so please save the file on your machine for backup.
_______________________________________________________________________________
DISCLAIMER: We can not guarantee this kit will work on every old or even new Mercedes with faded or spotty trim (even if you think your trim appears to look "ok" except for the fading). In about 10 percent of the cars, Kent has worked on he was not able to get a luster shine to return. This even happened recently on his 2000 S500. So age is not necessarily the issue. If the trim you are working on has been left outside for years, subject to saltwater air or heavy acid rain it may not be restorable. You will not be able to bring back the original shine. In other cases, the anodized coating is so thin that the power tool will cut through it down to the bare aluminum, and then it may look even worse. We have found if this method of polishing does not work then the only other option is trim replacement (preferably finding good used trim from another car.) 
Related Products:
---