Needed when changing filters, injectors, fuel lines or heaven forbid - running out of fuel
If you are new to older Mercedes diesels and have not worked on them before, this is one of the first things you want to learn. Especially if you ever run out of fuel. Without knowing how to do this you will never get the engine started again!
Bleeding the Air Out of a Diesel Engine Fuel System - On Demand Video
$2.99
On Demand Video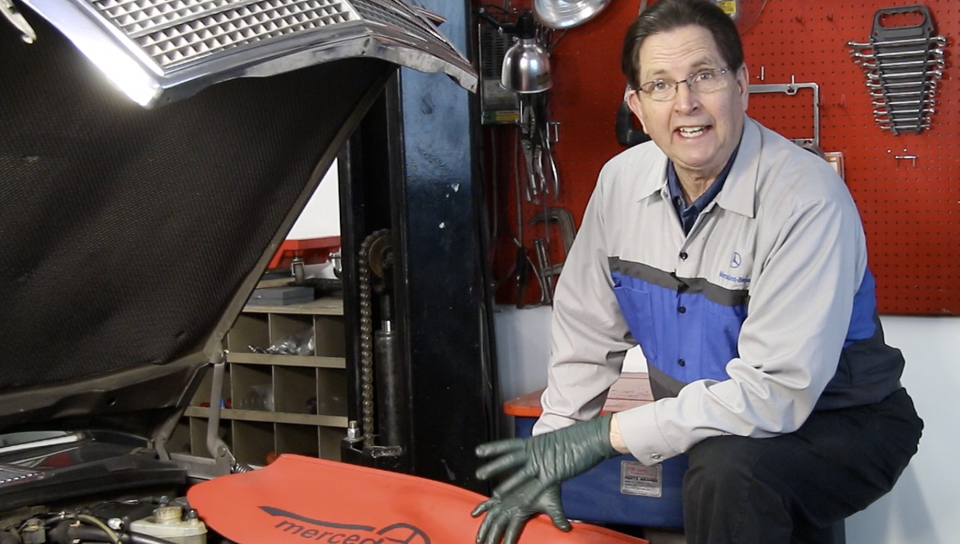 Product Details
Video Preview:
In severe cases just using the hand primer pump will not be enough. You will need to know the proper sequence for what Kent calls a partial bleed as well as a full bleed. In this on demand video he will cover both with step-by-step closeups while working on a 300SD. 
IMPORTANT NOTE: This same video is included FREE if you purchase the glow plug change on demand video. If you plan to purchase or have purchased the pencil glow plug removal and replacement video then you do not need to purchase this video. Just type glow plug removal in the search box to locate. 
WARNING FOR SUCCESS: Make certain now that your hand primer pump is working and not leaking fuel. Just go out and try it. If it will not pump up pressure or leaks fuel when you pump it you MUST replace it now. DO NOT wait until you need to bleed the engine - It won't bleed with a bad hand pump! We recommend our heavy duty all metal pump made by Monark in Germany. See related products.
Total run time: 8:51
---
How to view this on-demand video:
Once you complete the purchase of this video you will be able to view it immediately when you are logged in and on your personal account page (click on My Account). The video(s) will show up under My Video Manuals. The video is NOT downloadable to your computer or mobile device, but you will be able to view it anytime, from anywhere and from any device as long as you have internet access and you are logged in to your account at mercedessource.com.
Important note: This video manual may or may not include all the information you will need to troubleshoot and/or repair your specific problem/s. Please read the full description carefully to determine if this video is applicable to your year and model and contains the information you are looking for. If not, please refer back to our "Solutions Finder" and enter your chassis number and the specific problem you are having to see if we offer a solution.
Related Products:
---