NEW VERSION 3 release.. See application notes below:
Works on all models from 1977 to 1993 with the Bosch C.I.S Fuel Injection system - see models listed below: Now you can do it yourself on the bench with this inexpensive tester- Save big $$.  Ever wonder how well your old CIS fuel injectors are working? You could run some injector cleaner through your fuel tank but you would never know for sure if it really helped. Let's face it, these injectors are old and when they get dirty, gummy, or stuck your fuel economy will go down. Your engine could become hard to start when cold or hot, run rough at idle, and exhibit loss of high end power. Worse yet, your engine will be adding gasoline to the engine oil which greatly increases engine wear ( particularly piston rings). 
CIS Gas Fuel Injector Spray Pattern Tester and Nozzle Cleaner
$249.00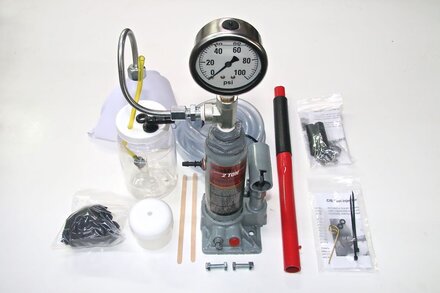 Product Details
The only real way to know if your injectors are performing properly is to remove them from the engine and bench test them for release pressure, spray pattern, and leakage. Then using the same pump tester with cleaner added to the tank (not included), you can thoroughly clean the injectors. Then retest them to check your cleaning results. What you are looking for is a consistent spray pattern, quick release and equal release pressures between the injectors ( balancing them). Since they are not adjustable or rebuildable, you will need to replace any defective ones you find.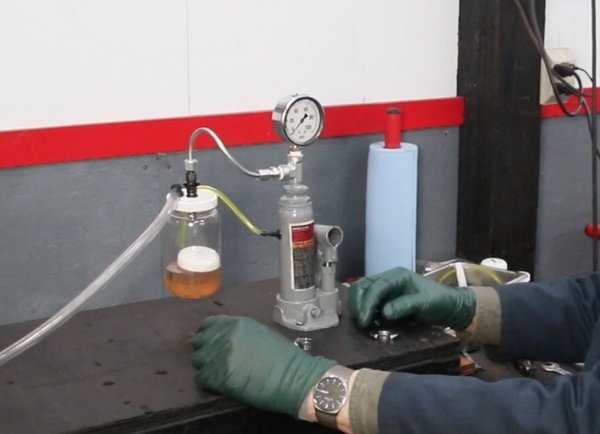 The pump tester comes with a 100 psi accurate liquid filled gauge, NEW fuel recycling and fume capture bottle, adapter fitting for the models listed above (thread size is 12 mm x 1.5), 2 o-ring seals, mounting bolts (pump base is already drilled for you to mount to thick plywood), and video instructions. We even throw in some gloves. ALWAYS wear gloves, respirator, and face shield when using this tester. NEVER TEST WITH GASOLINE. Only use the fuel recommended in the included instructions. 
Kent's three instructional videos on this tester are now included at no extra cost. These videos cover setup and operation, testing, cleaning, and troubleshooting.  Upon checkout, the videos are automatically attached to your account.  It is NOT sent to you. See end of the product description for details on how to view the video.
PLEASE READ CAREFULLY: 
The included metal line fitting will attach directly to the gas fuel injectors on the following models: 1977 to 1992 - 450SL, 450SLC, 380SL, 280E, 280CE, 280TE, 280SE/L,450SE/L, 6.9, 380SE/L, 380SEC, 300SE/L, 190E 2.3, 190E 2.6, 260E, 300E, 300TE and the 300CE coupe up to 1989 (with M103 engine).
The included hose and clamp adapter must be used when testing CIS fuel injectors from the years and models listed below: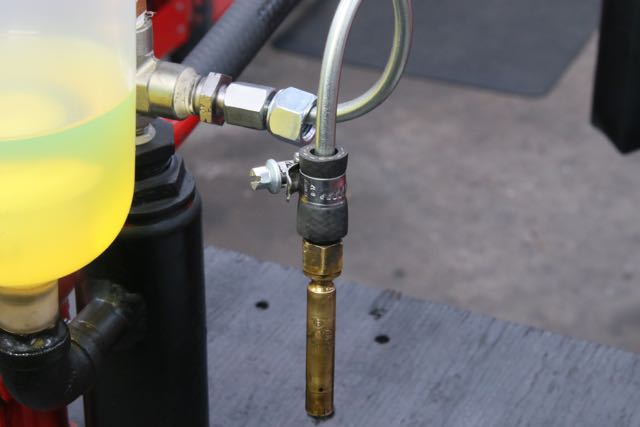 Since the testing requires less than 100 PSI pressure to test the spray pattern we have found this adapter works very well without leaking. 
1990 to 1992 300CE with CIS
1990 to 1993 300SL with CIS
1986 to 1991 420SEL with CIS
1990 to 1992 500SL with CIS
1986 to 1991 560SEC with CIS
1986 to 1991 560SEL with CIS
1986 to 1989 560SL with CIS
How do you know if you have CIS? If you have hard metal fuel lines going to your injectors with no wires you have CIS. If you have any wires connected to your fuel injectors you do NOT have a CIS injection system. This tester WILL NOT work on engines with electronic fuel injectors (wiring going to injectors).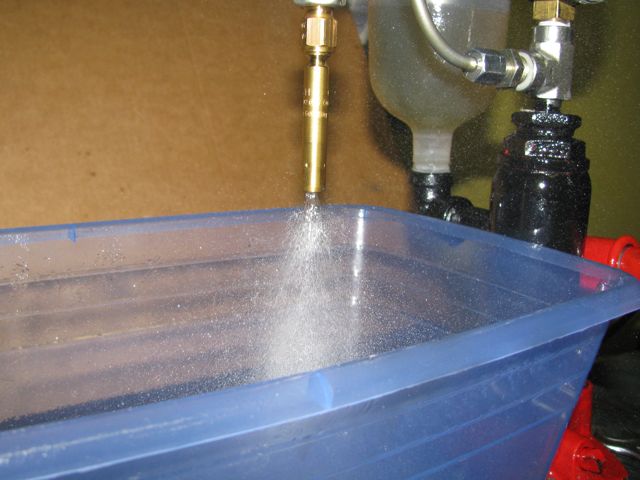 Version 3 tester now eliminates spraying the injectors out in the open. It attaches to one bottle that acts as a revolving door for the testing fuel. The bottle comes with a 3/8 inch exit hose that will allow you to route the fumes outside your work space. 
How to view your free video instructions:
Once you complete the purchase of this product you will be able to view the bonus video immediately. Just log in to your personal account page by clicking on My Account at top of page and entering you user name and password. The video will show up under My Video Manuals. The video is NOT downloadable to your computer or mobile device, but you will be able to view it anytime, from anywhere and from any device as long as you have internet access and you are logged in to your account at mercedessource.com.
_______________________________________________________________________________
How to view the PDF digital instructions:
Once you complete the purchase of this product you will be able to download the digital instructions immediately when you are logged in and on your personal account page (click on My Account). Any PDFs will show up under My PDF Manuals. You will be allowed three downloads, so please save the file on your machine for backup.
_______________________________________________________________________________
Related Products:
---