Last three available. No further production! For all 220D 240D 300D 300CD 300TD 300SD 1969 to 1985 and other 6 cyl. gas models with viscous fan clutch
Fits the following 108, 111, 113, 114, 115, 116, 107, 123, and 126 chassis with four-bolt mount vicious and fixed fans. NEW IN 2020!  Now with a longer and more comfortable handle. I developed this special tool out of sheer frustration of years trying to remove rounded off and frozen 10 mm head bolts that mount the viscous clutch to the water pump. These special 10mm bolts (4) are often abused and when you try to get them off particularly with open end 10mm wrench you can round the head and then you've got some real problems.
Older Diesel and Gas Fan Clutch to Water Pump Mounting Bolt Removal Tool
$28.95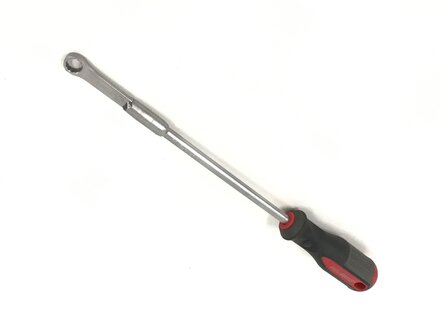 Product Details
This wrench starts out as a combination 10mm that is cut off and then straightened out and welded to a long thick shaft screw driver to create an extended (very long) handle. I cut the open ends of both wrenches off and then weld them together to create this special wrench. The 10mm box end has been specially ground to fit on the head of these special fan bolts. What is particularly nice is having the extra torque of the long handle. Most 10mm combination wrenches are real short and if they are off-set at all with an angle they are very hard to get on to these bolts. If you have been as frustrated as I have with these bolts then you will appreciate this solution. If changing a water pump or viscous fan is in your future, I highly recommend this tool. It will save a lot of frustration and some busted up knuckles. 
Here you can see the advantage of our special long-handled thin head 10 mm wrench. The long handle allows easy reach to the bolts holding the fan clutch to the front of the water pump and the thin box head actually allows you to get on the bolts and turn them ( the clearance is VERY tight).
​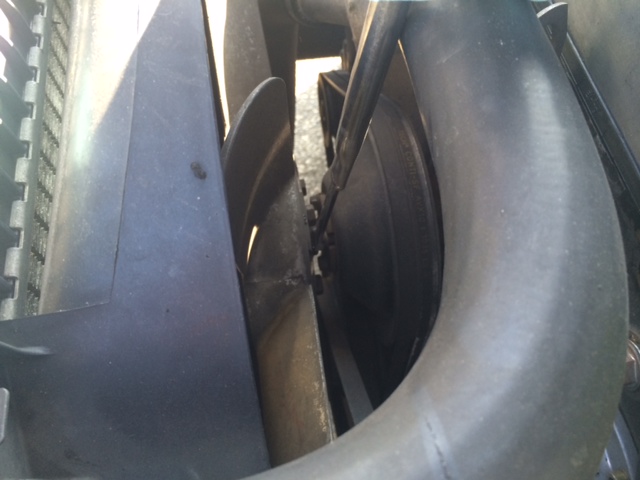 Related Products:
---