On the 7-speed transmissions from 2003 to 2016 transmission fluid level has be checked from under the car, with the engine running and the correct temperature reached.
Since there are no dipsticks on these transmissions, the DIY way to check fluid level is from under the car with a touch-free thermometer to measure the heat of the transmission fluid BEFORE setting the correct level. Instructions are included with my full 722.9 transmission fill kit. See related products below:
Infrared Thermometer to Use When Checking Fluid Level in a 722.9 transmission
$18.60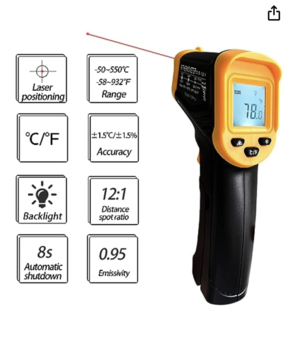 Product Details
PLEASE NOTE: There are better and more expensive infrared thermometers out there. This is more than adequate for this job. If you demand the highest quality in the tools you own, please do not purchase.