Can be used to covert 1961 to 1979 190D 200D 220D 240D 300D 300TD and 300CD.
PLEASE NOTE: This is a wiring kit ONLY. You will need special FAST glow plugs and glow plug wires to complete a successful installation. This kit will not work with your orginal lopped-end series glow plugs. If you do not already have the FAST glow plugs and wires, we recommend you purchase one of our complete kits for your specific model. See related products below: 
Early 4 and 5 Cyl. Diesel Manual Push Button Control Glow Relay Installation Kit - NO GLOW PLUGS
$110.50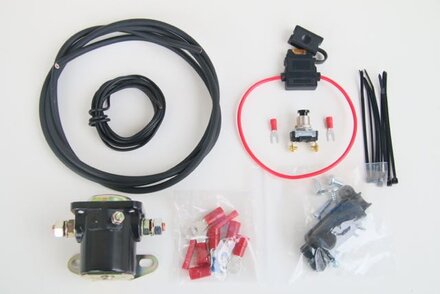 Product Details
When this kit is installed in your old diesel it will allow you to use a push button on your dash to control the function of your engine's glow plugs. The FAST plugs will heat up in 5 to 10 seconds, greatly reducing the amount of time you have to wait to start your engine. On real cold mornings you can continue to hold the button down during the first 20 to 30 seconds your engine is running to reduce engine roughness and exhaust smoke. 
If your 1975 to 1979 model has an electric glow plug relay under the dash, this kit will bypass or override that expensive relay. If your older model has a pull start you will still need the pull start know to crank the engine and shut if off, but you will no longer use the pull starter to heat the plugs. That will be done with a button using your left hand.  Your glow plug sensor will not work with the conversion kit and is left disconnected. You DO NOT use a ground wire with the fast glow plugs or you will burn them out.
GENERIC INSTRUCTIONS INCLUDED: The included instructions will not cover every single aspect of every installation on every model. You will need some knowlege of automotive wiring and be able to interpolate the wiring diagrams and instructions to adapt to your particular model.
Related Products:
---