All early 4 cylinder diesels 1961 to 1976 - override factory glow system -- PDF Digital Instructions included!
Tired of having to pull and hold the glow / starter knob on your old 110 or 115 chassis diesel? Hand getting tired? Waiting forever to get the glow plugs hot enough to start the engine? Wish the glow plugs would not burn out so often? Wish you could keep the glow plugs glowing even after the engine starts to smooth out the idle and reduce start-up smoke?
190D 200D 220D Early 240D Fast Glow Plug Upgrade w / Manual Push Button Control
$178.50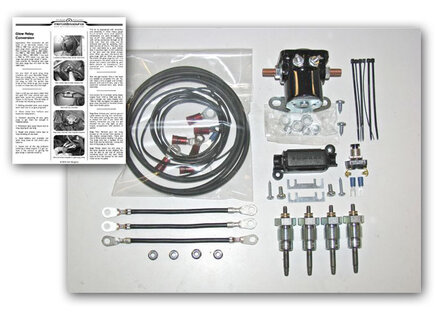 Product Details
This kit will help allow those wishes to come true! Simply install the new style parallel fast glow plugs, install the new glow plug wires, run a heavy wire from the battery to a new fuse holder, connect fuse holder to new heavy duty relay switch, connect other side of relay to the glow plugs, run wire from relay to a button on or under the dash, push the button and hold for 5 to 10 seconds, engage starter to start engine. You will disconnect and bypass the the factory glow plug wiring, and you will only use the pull starter knob to engage the starter motor. Your glow plug sensor will not work with the conversion kit and is left disconnected. You DO NOT use a ground wire with the fast glow plugs or you will burn them out.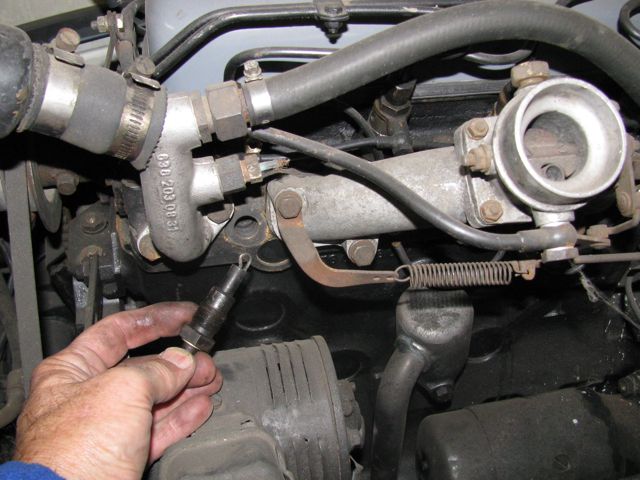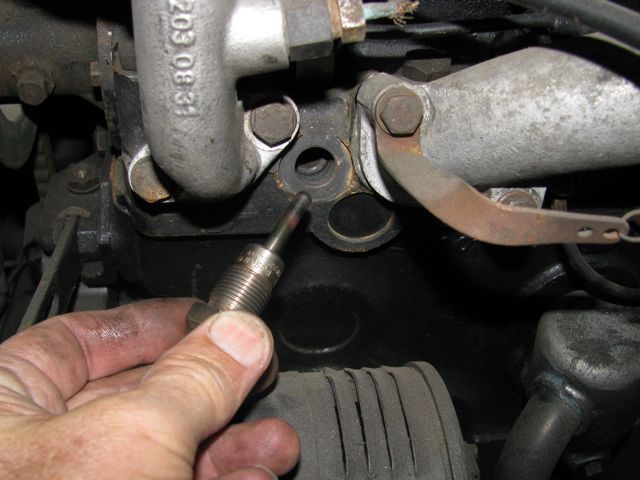 The picture on the above left shows the original style series loop glow plug being removed from an early diesel. This type of glow plugs takes a long time to heat up and if one glow plug burns out, you may not be able to start the engine. The picture on the right shows the new style fast pencil glow plug being install in the same hole. This type glow plug heats very fast, is more reliable, and if one burns out the engine will still start on three cylinders. When installing these newer style plugs the factory wiring does need to be modified.
The complete conversion kit includes the following
 Heavy Duty Manual Relay
Quality push button hole mount switch
Mercedes factory 80 amp fuse holder
 2 - 80 amp strip fuses
 Correct size and length of wire needed
 All terminal connectors required
4 Upgraded Pencil type Fast Glow Plugs
 Three New Glow Plug Wires
 Complete step-by-step PDF Digital instructions
_______________________________________________________________________________
How to view the PDF digital instructions:
Once you complete the purchase of this product you will be able to download the digital instructions immediately when you are logged in and on your personal account page (click on My Account). Any PDFs will show up under My PDF Manuals. You will be allowed three downloads, so please save the file on your machine for backup.
_______________________________________________________________________________
If your diesel engine is getting a little tired, this kit can help keep it going for a while longer. You know that if you can just get it started it will go forever.. For you who are running waste vegetable oil, these plugs and relay setup will help start your engine in the morning if you did not fully purge the injection pump of grease the night before.
Remember: you will lose the pull to glow function and you will not longer have a heat light indicator to let you know when the plugs are hot. You will have to think and count (seconds in your mind) when you start your engine. But I believe the benefits far outweigh the inconvenience of having the push a button on the dash. You will love how fast your old diesel with start in the morning.
INSTALLATION NOTES: This kit can be installed with your average hand tools. There is one tool you may not have. You will be working with #8 gauge automotive wire (now that is thick wire!). You will need a crimping tool that can handle that size wire like the one shown below. Most standard crimping tools only handle terminals down to # 10 wire. We offer an inexpensive crimping just for this kit, listed below