Directly covers most 1960's Automatics - Indirectly covers 1970's and Early 1980's Automatics Directly covers most 1960's Automatics - Indirectly covers 1970's and Early 1980's Automatics
Transmission service on these older Mercedes is very often neglected and it is something you can do yourself. It should be done every 30,000 miles or every 5 years (whichever comes first). After you watch this video you will find out why you should do it yourself! In this video instruction Kent uses his own W113 280SL to walk you through the following steps:
Older Automatic Transmission Fluid and Filter Service - On Demand Video
$12.99
On Demand Video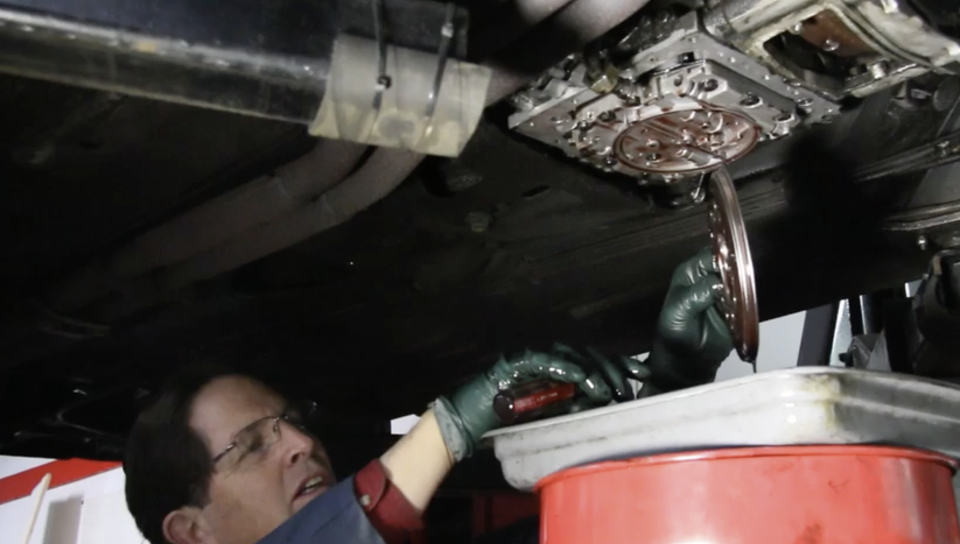 Product Details
Draining fluid out of the transmission pan
Draining fluid out of the torque converter
Removing the pan
Minimizing fluid spills
Removing the old filter
Installing the new filter
Inspecting the fluid in the bottom of the pan
Methods to flatten a warped or bent (at the bolt holes) transmission pan
Preparation for the gasket
Use of the proper gasket sealant
Why you should NEVER use RTV sealant
Applying sealant to the pan
Importance of cleanliness
Setting the pan in place
Easy way to get the bolts started
Avoiding use of power tools
Careful snugging down of the bolts
Proper tightening sequence
How to get the torque right when tightening against a cork gasket
Trans oil cooler line inspection
Installing torque converter drain plug - to stay put!
Inspecting flexible oil cooler hoses
Draining the radiator transmission cooler chamber
Tips for filling the transmission with new fluid. 
PLEASE NOTE: The instructions in this video specifically cover most automatics built during the 1960's that had pans mounted with a cork gasket and 16 bolts. This would include the W110, W111, W112, W113, and early W108 models. Later model automatics used only four and then six bolts to attach the pan. These later transmissions used rubber gaskets that required no sealant. The filters were similar but attached with two screws rather than one in the center. The pan design was changed to help prevent over tightening but it still happens. The principles of draining and replacing the fluid and the filter and the concern over the attach points of the pan are the same for all automatics from the 1960's through the early 1990s's. 
Total Run Time:  32:24
---
How to view this on-demand video:
Once you complete the purchase of this video you will be able to view it immediately when you are logged in and on your personal account page (click on My Account). The video(s) will show up under My Video Manuals. The video is NOT downloadable to your computer or mobile device, but you will be able to view it anytime, from anywhere and from any device as long as you have internet access and you are logged in to your account at mercedessource.com.
Important note: This video manual may or may not include all the information you will need to troubleshoot and/or repair your specific problem/s. Please read the full description carefully to determine if this video is applicable to your year and model and contains the information you are looking for. If not, please refer back to our "Solutions Finder" and enter your chassis number and the specific problem you are having to see if we offer a solution.