This will repair most cracked or broken upper radiator necks - Free video instructions
Another great solution from Mercedessource!
A broken radiator neck can be safely repaired if it breaks off cleanly in the center or aft of the center of the neck. If it breaks off too close to the tank or breaks off in multiple small pieces then we advise that you replace the radiator.
Plastic Radiator Broken Upper Neck Repair Kit
$32.95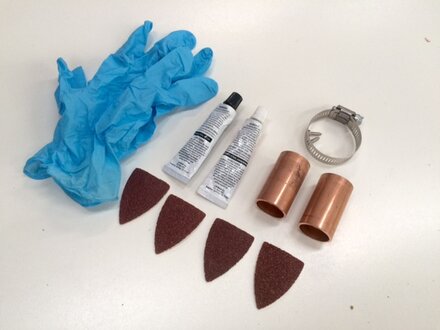 Product Details
To see an example of an acceptable repair please watch Kent's Youtube video here: https://youtu.be/2yYz1xtPme0
This kit includes two reinforcement copper tubes, special epoxy, sanding pads, pins, wide hose clamp and gloves. The kit is only intended to fix one neck but we include two copper tubes just in case one gets messed up, cutting one too short or at the wrong angle. 
You might want to inspect the radiator neck in your own 1978 to 1995 Mercedes if it has a plastic upper tank. (Not applicable to 500SEL 560SEL and 560SL) If the neck is not damaged Kent recommends using a wider hose clamp that the one originally supplied. A wider hose clamp is included in the kit and should be used after the repair.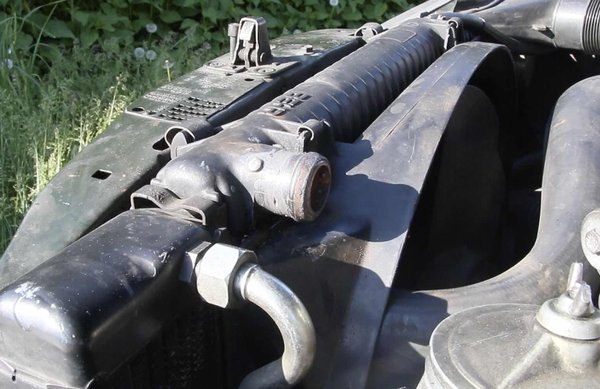 Here you see a radiator neck on a W123 300D that was just repaired. Epoxy must be adequately dry before starting the engine. 
__________________________________________
How to view this on-demand video instructions:
Once you complete the purchase of this product you will be able to view the video immediately when you are logged in and on your personal account page (click on My Account). The video(s) will show up under My Video Manuals. The video is NOT downloadable to your computer or mobile device, but you will be able to view it anytime, from anywhere and from any device as long as you have internet access and you are logged in to your account at mercedessource.com.
Related Products:
---