This is a HUGE problem - and if neglected can lead to catastrophic engine failure! Mark my Word...
ALERT! ALERT! 10 years after I first started warning about this, I saw it again in my shop on Feb. 20, 2011. Seems to be happening even more now as these radiators age. I loosened up the upper hose clamp on this 123 300TD radiator and it just fell off.  The only thing that saved this customer's engine was the wide hose clamp I had put on the upper neck about 7 years ago. Take a look a what happened to neck.  It is almost like it rotted away....
Plastic Radiator Neck Reinforcement Kit
$24.95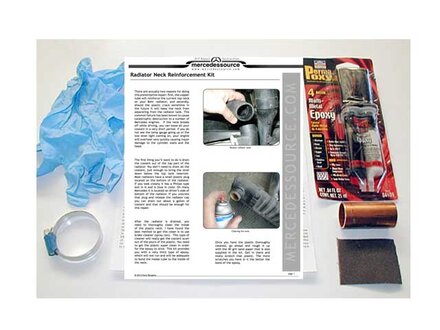 Product Details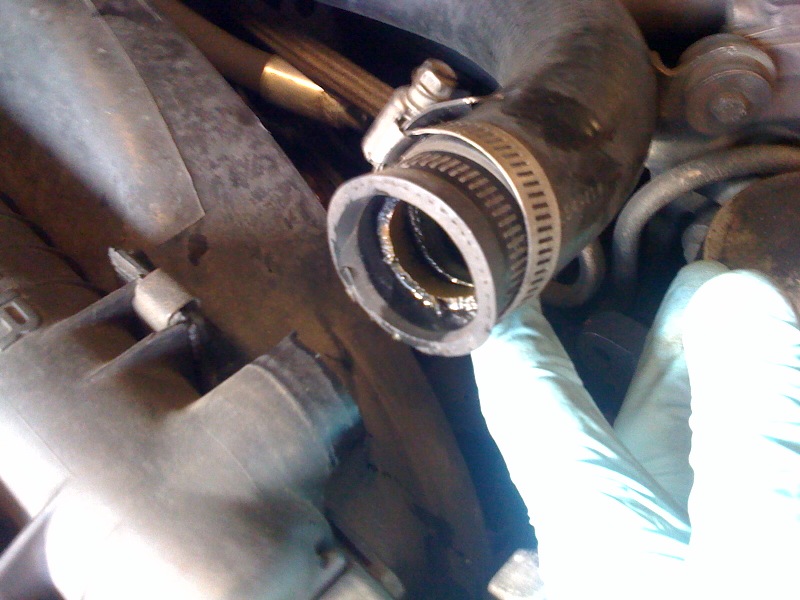 FITS THE FOLLOWING: Some 107, all 123, early 126, 201, and 124 chassis with plastic radiator tanks that started showing up in the mid to late 1970's. Includes models 123 chassis 240D 300D 300CD 300TD 280E and 280CE, 126 chassis models 380SEL 300SD and 107 380SL, 201 and 124 models 190E 190D 300E 300CE 300D 300TD.  This WILL NOT FIT the 500SL 500SEL 560SEL and 560SL big V8 models. They have larger neck radiators and the pipe diameter included with this kit is too small in diameter). Since the MB original radiators are notorious for breaking off their plastic necks (can ruin your day and your engine!) it is best just to replace the old radiator with new. This is one instance where an OE part is not the best. I am really upset at Behr for the poor radiators they built during the 1980s and early 1990s. Many engines have been lost due to their plastic necks breaking off and the engine overheating. I am so mad I just do not sell Behr radiators.If you do not want to buy a whole new radiator then here is a low cost alternative. This kit can prevent a catastrophic engine failure.
If you have a broken neck some are repairable. We have a special kit for repairing plastic necks that have cleanly broken off. SEE RELATED PRODUCTS below.
This will help you to reinforce your existing undamaged radiator neck. Includes proper epoxy, copper reinforcement pipe section, rough sandpaper, a wide hose clamp (not shown) and even instructions! PLEASE NOTE This kit is meant for preventative measures only! If your radiator neck has already broken, you cannot use this to repair it. You must purchase a new radiator.
Here is a picture with the metal insert glued in place: Let me ASSURE you... This is worth the piece of mind and possibly the cheapest insurance you can purchase to protect your engine! You can't believe how many emails I have received from customers over the years informing me this wish they had taken my warning more seriously....
_______________________________________________________________________________
How to view the PDF digital instructions:
Once you complete the purchase of this product you will be able to download the digital instructions immediately when you are logged in and on your personal account page (click on My Account). Any PDFs will show up under My PDF Manuals. You will be allowed three downloads, so please save the file on your machine for backup.
_______________________________________________________________________________
Related Products:
---