New in 2019. Designed so you can modify and/or build your own precise shim thicknesses.
This is a "must-have" kit when adjusting release "pop" pressures on older diesel mechanical fuel injectors. It is the internal spring "shim" thickness that determines the exact pressure required for the release of fuel at the tip of the injector. This kit will work on all Bosch injectors installed in the OM 615, OM616, OM617, OM601, OM602, and OM603 engines from 1961 to 1995. NOTE: These shims will also fit OM621 injectors from 1958 to 1968.
Variable 26 Pc. Diesel Fuel Injector Pressure Adjustment Shim Kit
$39.95
Product Details
Many owners wrongly believe that fuel injectors can go "forever" without service or overhaul.  For peak performance, better fuel economy, less engine wear, and reduced smoke, fuel injectors should be checked every 100,000 miles or more often if not using a lubricant additive in your fuel tank. To tune them properly you will need a bench pressure tester and these adjustment shims. Be sure to click on the links below to see what else you will need to rebuild and tune your fuel injectors.  We work long and hard to make sure you have the very best parts, tools, instructions, and supplies available to rebuild these injectors yourself AND to make sure it is done right! 
One of the more challenging aspects of adjusting the release pressures on your diesel fuel injectors is finding the exact thickness shim washer you need to make the proper spring pressure adjustment. This includes models 190D 200D 220D 240D 300D 300CD 300TD 300SD 300SDL and 350SDL. If you try to do it with just one shim per injector you end up needing a large assortment of all sizes of shims ranging from 0,80 mm to 1,95 mm. As of 2019, it is getting almost impossible to find any kind of a good assortment of the thicker shims. And knowing Murphy's law all too well, even if you were able to find some, you will end up needing the shim size that you do not have.
Kent has solved this problem with the release of his DIY Variable Shim Washer Kit. Geared specifically for the home mechanic who only occasionally needs to adjust injector pressures. Rather than having 70 to 100 different shims on hand you now only need 26 shims total to meet the variable requirements of adjusting one set of 4 to 6 fuel injectors. Of course, you will have extra shims left over. Keep in mind that in some extreme cases of worn injectors there is a possibility this shim kit may not have all you need. We tried to balance the price and the assortment to meet the needs of most owners. Sometimes when installing a new nozzle the original shim may not need to be changed or only slightly modified with the thinner shims in this kit. 

As demonstrated in the instructional video here, the key is using more than one shim to meet the total thickness requirement. Buy using one or two thicker shims along with a few thin shims, you will be able to make any thickness you need. This kit contains ten thicker shims that are approximately .040 inches each. Along with these 10 thicker shims, there are 16 very thin shim washers. A total of 26 shim washers are included as shown. This will allow you to combine thick and thin shims to get just the thickness you need. The maximum outside diameter is 11.5 mm, so they can be used on other diesel injectors besides Mercedes that use the old mechanical fuel injectors for indirect injection. Kent even throws in his factory pick tool to get the shims out of the injector housing at no extra charge.
You have many variable options with this new kit. It comes in a nice plastic divider case, gloves, and a few extras that will put a smile on your face.

To measure the thickness accurately you will need a good metric/sae digital caliper. If you do not have one of these in your tool kit we offer one on this website for a very attractive price. We also carry a full tool kit for cleaning, tuning and overhauling your fuel injectors.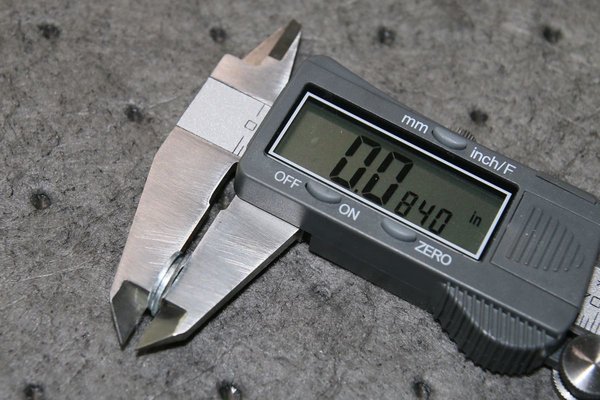 IMPORTANT NOTE: Please watch the attached free video to explain how to use this shim "building" kit. No instructions are included for the actual removal and overhaul of a fuel injector. These detailed instructions are included in Kent's lengthly written manual of cleaning, overhauling and testing Bosch diesel mechanical fuel injectors. Please see the related products below.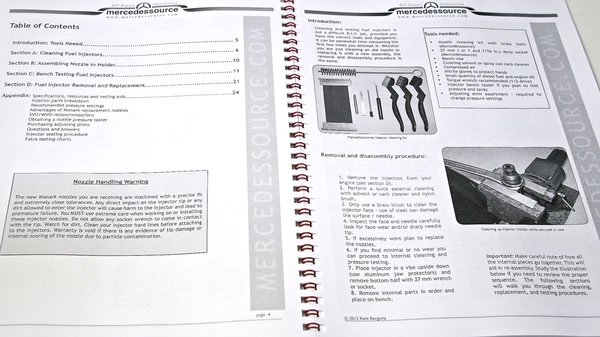 BONUS OFFER: This exact same shim kit is included in our deluxe diesel fuel injector overhaul kits at no extra charge. See related products below:
Related Products:
---