How Kent does it to minimize the mess and prevent damage to the canister housing.
Doing an oil change in your 1965 to 1976 Mercedes 200D, 220D, 240D or 300D diesel. Be careful! There are a couple things that you really need to watch out for. In this video Kent will explain some of the things that can go wrong and how messy this job can be. The focus in this video is on removing the oil filter housing and replacing it without damaging it or creating oil leaks.
W110 W115 Mercedes Diesel Engine Oil Change Procedures - On Demand Video
$6.99
On Demand Video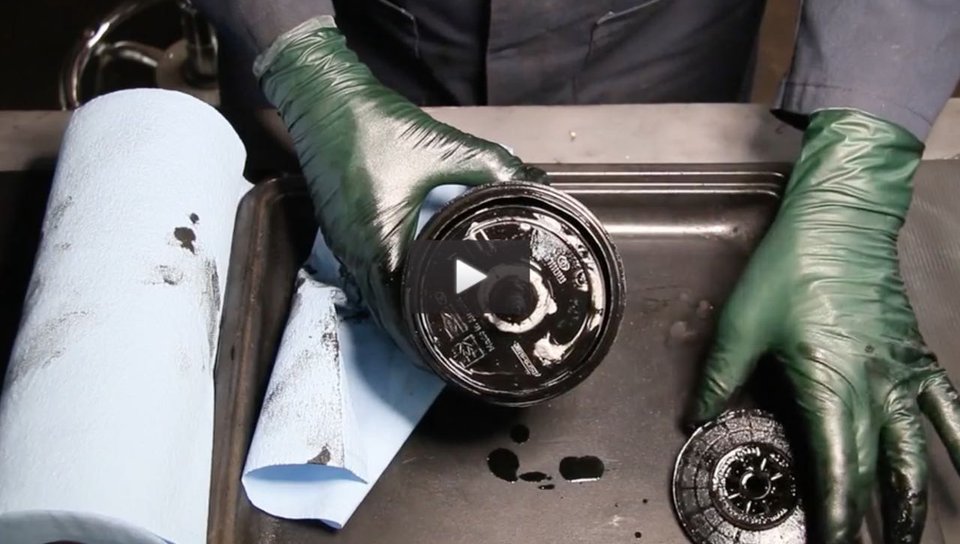 Product Details
Here are the step-by-step procedures that are covered:
Removing the oil filter housing
Removing the plastic pre filter
Removing the oil filter element
Inspection the canister housing lip
Why care must be taken when replacing the canister housing
How to remove the large o-ring seal
Why it is so important you do this oil change yourself.
How things go back together in the canister
Direction of spring and filter
Installing the new plastic pre filter
Cleaning the filter area under the car
How to get the alignment right when installing the canister housing
Preventing damage to the lip of the canister
How to tighten the center bolt properly
Double checking your work
Adding oil with funnel
How to prevent over filling
Final run test and inspection.
Draining the old oil out of the pan is not covered in this video. It is assumed you already know how to do this from working on other cars. Kent does demonstrate that draining the oil out with the pan plug does get all the oil out of the engine. He prefers an oil extractor but is not absolutely necessary. 
TOTAL RUN TIME: 15:05  minutes
---
How to view this on-demand video:
Once you complete the purchase of this video you will be able to view it immediately when you are logged in and on your personal account page (click on My Account). The video(s) will show up under My Video Manuals. The video is NOT downloadable to your computer or mobile device, but you will be able to view it anytime, from anywhere and from any device as long as you have internet access and you are logged in to your account at mercedessource.com.
Important note: This video manual may or may not include all the information you will need to troubleshoot and/or repair your specific problem/s. Please read the full description carefully to determine if this video is applicable to your year and model and contains the information you are looking for. If not, please refer back to our "Solutions Finder" and enter your chassis number and the specific problem you are having to see if we offer a solution.