Covers fuel system service and repair on the 1969 to 1976 220D 240D and 300D only
Kent uses his 1976 240D that had sat idle for 6 years to demonstrate what needs to be done to get an old fuel system cleaned out and serviced properly. This always includes installing new fuel filters and sometimes will require replacing some of the rubber hoses. In cases like this car it alsow requires draining the old fuel out of the fuel tank and cleaning the fuel tank screen.
W115 Diesel Engine Major Fuel Service - On Demand Video
$8.99
On Demand Video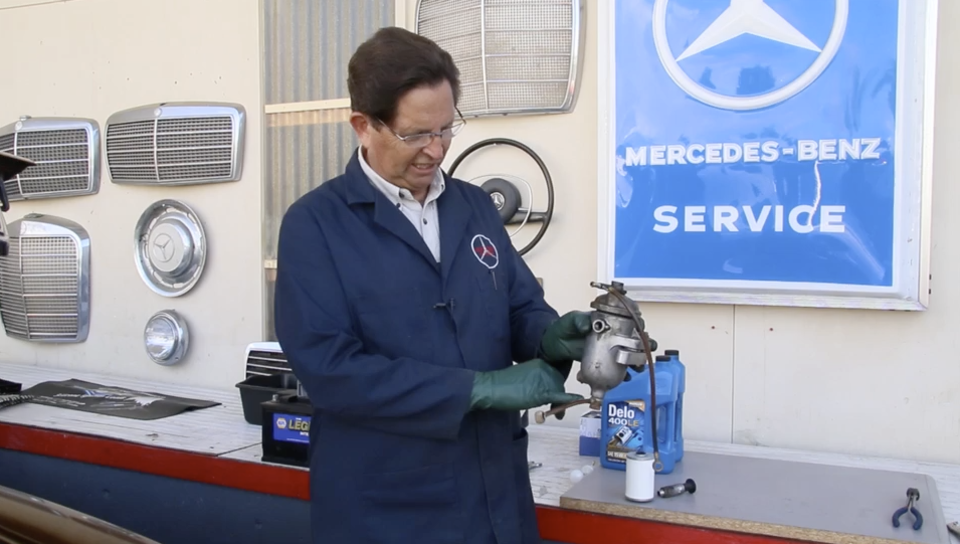 Product Details
Video Preview:
Of course for best performance the fuel fitlers should be changed once a year or every 12,000 miles whichever occurs first. This is particularly important on old diesels that are more than 18 years old ( due to likely contamination inside the fuel tank. 
This on demand video will cover the following procedures for servicing the fuel system on a 1969 to 1976 220D, 240D and 300D:
Quick overview of draining the fuel tank, cleaning the fuel tank screen, and replacing hoses at the tank - no detailed specifics
Better access shown for removing and replacing the plastic pre-filter
Using a clamping tool to get the hoses on and off the pre-filter
Importance of using a clear pre-filter
Replacing a leaking fuel hand primer pump on the 220D and 240D
Best tools to use to remove and old hand primer pump
Best type hand primer pump to install
Best tools to use to install the new primer pump and to tighten the fittings on the injection pump
Overview of main fuel filter housing viewed out of the car
Problems related to the fuel filter housing fittings and mounts
Checking the tightness of the filter connections
Removing the lid to the fuel filter housing
Removing the old filter while minimizing fuel spills
Draining the excess fuel of the fuel filter canister
Importance of wearing protective gloves
Importance of replacing the fuel filter lid / cap seal
Installing and hand tightening the fuel filter lid
Proper positioning of the cap and fuel lines
Proper tightening torque of the cap bolt 
Pumping new fuel into the fuel filter housing
How much to pump before trying to start the engine
Checking the fuel injector rubber return hoses
Starting the engine
Bleeding the air out if the engine if it won't easily start
This video does not cover other fluid changes such as engine oil, coolant, transmission fluid, power steering fluid, brake fluid, etc. Watch for all Kent's other on demand videos that may cover some of these topics. 
Total Run Time is 22:25
---
How to view this on-demand video:
Once you complete the purchase of this video you will be able to view it immediately when you are logged in and on your personal account page (click on My Account). The video(s) will show up under My Video Manuals. The video is NOT downloadable to your computer or mobile device, but you will be able to view it anytime, from anywhere and from any device as long as you have internet access and you are logged in to your account at mercedessource.com.
Important note: This video manual may or may not include all the information you will need to troubleshoot and/or repair your specific problem/s. Please read the full description carefully to determine if this video is applicable to your year and model and contains the information you are looking for. If not, please refer back to our "Solutions Finder" and enter your chassis number and the specific problem you are having to see if we offer a solution.
Related Products:
---