The fuel from the injection pump can be shut off by following this tip:
When doing a cranking compression test on a diesel engine with all the fuel injectors removed, you can easily end up with diesel fuel spraying all over the place. You will have significant cleanup unless you take some precautions to minimize or eliminate fuel flow through the injector lines. Fuel spray can be prevented by turning the fuel off at the injection pump. Connect a hand pump tester to the vacuum fuel shutoff valve and pump up pressure. At the same time use a golf Tee to plug the fuel injector return hose going to the factory main filter. Don't forget one more thing: Unplug the main wiring plug at the glow plug relay to prevent the engine from inadvertently starting. NOW you are ready to do your cranking compression test.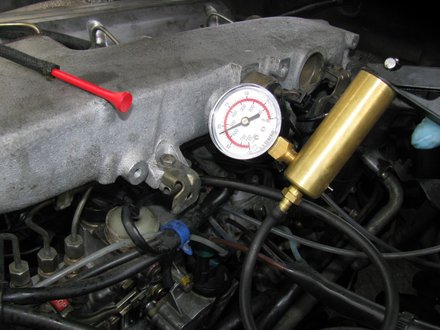 Problem & Solution
Common among these chassis:
W115
W116
W123
W124
W126
W201
Picture is a 603 engine in a 300SDL going through the testing sequence. The compression tester I sell comes with complete instructions and how to interpret the results.