NEW! Kent's 2019 video instructions included free of charge. Always check engine compression either BEFORE or RIGHT AFTER purchasing an older Mercedes diesel (before is better of course!)
All 61x and Some 60x Diesel Engine Compression Tester Kit With Test Guide
$89.50
Product Details
APPLICATION:For 190D 200D 220D 240D 300D 300CD 300TD 300SD 300SDL. Also 350SD 350SDL 190D 2.5 300D 2.5 with conditions***
For use on all*** Mercedes diesels 1959 to 1993. BUT PLEASE NOTE THERE ARE SOME LIMITATIONS ON THE LATER MODELS. Test compression on 110, 115, 116, 123, 126, 201,124 AND 140 chassis. Almost ALL models up through 1987 can be tested through the fuel injector hole.
****** For models 1988 to 1993 with the newer style 22 x 1.5 mm threaded fuel injectors, you will have to do the compression test with this tester ONLY through the glow plug holes (requiring intake manifold removal).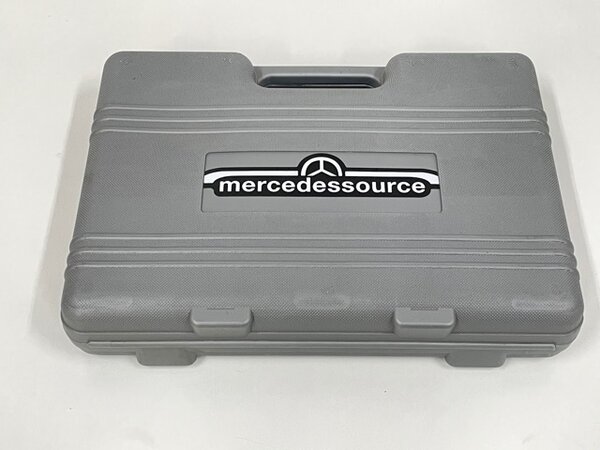 Here is the compression tester you have always wanted at the right price. It has the correct adapters to take a compression reading either through the injector port or through the glow plug hole on applicable Mercedes diesel engines. You are probably wondering what all the other adapters are for? It also includes adapters for some older VW, Toyota, Peugeot, Isuzu, etc. This kit is sold by U.S. General and made in China. Do Not let that scare you as most tools are now made in China - even if you buy from U.S. Manufactures. If you want Snap-On or Matco you will have to pay the price. This is a very well made unit. I was impressed the first time I saw it and I think you will be too. backinstock
FREE MANUAL INCLUDED: Our new Diesel compression testing guide is being included at no additional cost with the purchase of the tester. No need to order this separately.
Doing a compression test is not difficult and is a MUST DO before you purchase any older diesel.  Anytime you are troubleshooting poor starting, rough running, loss of power you should begin with a compression check to rule out the possibility of an internal engine problem.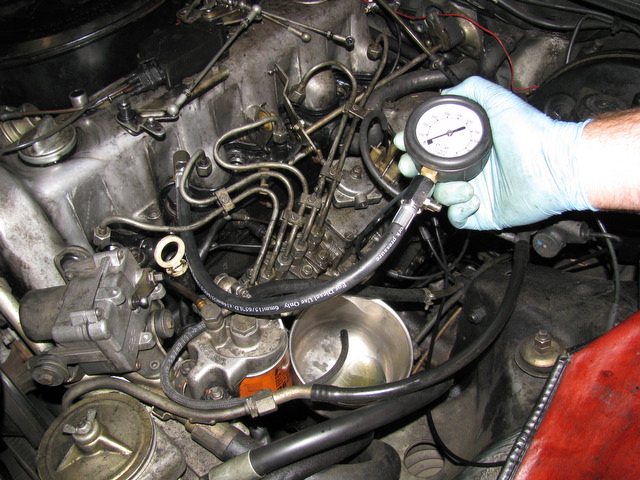 WARNING: Always perform a valve adjustment on pre-1985 diesel engines before doing a compression test. Failing to do this can give you false readings.
IMPORTANT: The compressor tester hose is connected to the injector adapter fitting shown here on models up through 1987. The hose attaches with a connection fitting similar to an air hose.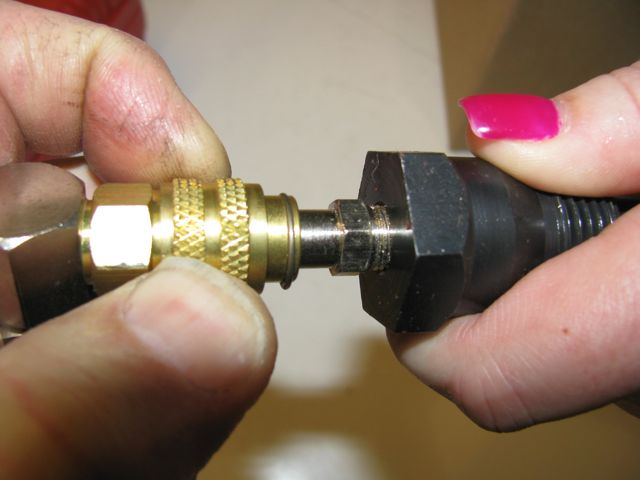 IMPORTANT NOTICE PLEASE READ: We are removing some of the fittings from the case. These are fittings that do not appy to Mercedes Diesel Engines or are multiple fittings of the same that you would not use. This will prevent confusion as to what you should use when compression testing your engine. Do not be alarmed when you receive your test kit. One of the videos above will explain this in detail. 
If you have an early 1990's 5 or 6 cylinder diesel you can use this compression tester but you will need the special adapter fitting that we machine right here in our shop. See related products below to purchase separately.
Related Products:
---