This filter never seems to get replaced. Good beginner DIY job. Comes with PDF instructions
FITS THE FOLLOWING: all 116 300SD from 1978-1980, R107 chassis from 1977 to 1989, 123 chassis both gas and Diesel from 1977-1985 and 126 chassis both Gas and Diesel from 1981 to 1991. Also 124 Chassis 260E 300E 300TD 300D 2.5. Many Mercedes owner do not know that there is a filter inside of the Power Steering pump reservoir. Consequently this filter never gets changed and when it starts to become plugged your power steering starts to become sluggish. Change filter and Fluid for better performance.
116 107 123 124 126 Gas and Diesel Power Steering Reservoir Filter
$14.50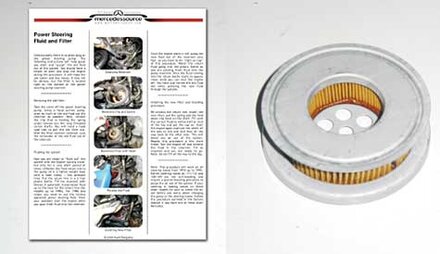 Product Details
Now comes with complete PDF picture instructions on how to change this filter and properly flush the old tired fluid out of your power steering box, install new fluid and bleed the air out of the system!
_______________________________________________________________________________
How to view the PDF digital instructions:
Once you complete the purchase of this product you will be able to download the digital instructions immediately when you are logged in and on your personal account page (click on My Account). Any PDFs will show up under My PDF Manuals. You will be allowed three downloads, so please save the file on your machine for backup.
_______________________________________________________________________________