Fits all Wagons from 1979 to 1985
Fits the following: All 123 wagons 240TD 300TD 280TE from 1979 to 1985.
123 300TD Wagon Rear Hatch (tailgate) Strut Kit
$83.50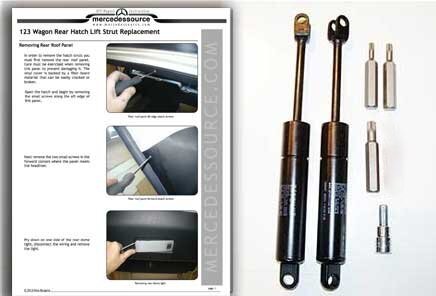 Product Details
PLEASE NOTE! IF YOU HAVE A 1985 WAGON THE TOOLS INCLUDED IN THIS KIT MIGHT NOT WORK. THERE HAS BEEN REPORTS LATELY THAT THERE IS A DIFFERENT TYPE OF BOLT HOLDING THE HATCH STRUTS IN ON THE 1985 MODEL! CUSTOMER REPORTS THAT a TORX T-40 WILL FIT THE 85 BOLT!
If you are tired of your rear wagon hatch falling on your head then this is the kit that can relieve your pain. This kit contains two CORRECT rear hatch opening shock struts by Stabilus, special tools to install the attachment bolts, and complete illustrated instructions on how to complete this job without damaging your interior. With the tools provided and the clear PDF instructions you should be able to do this job in one to two hours (good to have a helper standing by to hold the hatch open for you - or it may really fall on your head!
IMPORTANT NOTE: We have had problems trying to install the Febi Bilstein struts and no longer recommend them nor sell them. In some cases you can not even get them in the cavity opening without modification.
Tools included: There is no way to know which bolt style  you have unless you peel the headlinger back and look. So we have decided to include both the serrated star tools ( 3 total ) and one hex socket. As noted above if you have a 1985 model the tools may not work but we can not tell you by vin or month of manufacturer.