New! Extra belts included so you don't have to pre-measure or end up with the wrong alternator belts!
This is a very important maintenance item for 126 300SD 5 cylinder turbo diesel owners. When these belts get loose or worn they can cause all kinds of problems like poor battery charging, engine overheating, jerky power steering, and noises that range from squeaking to rattling. I hate those noises!
126 300SD Turbo Diesel Contitech V-Belt Set
$49.75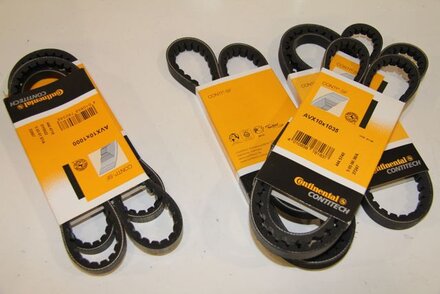 Product Details
It can even be worse if someone has installed aftermarket v-belts. Our experience has proven that anything less than Continental Belts is not acceptable nor will you be happy over the long haul. And we always recommend you install all four belts new at the same time with the correct OE Continental belts.
This set of belts is sold WITHOUT INSTRUCTIONS for those who already know how to remove and replace them. This is not an easy job if you have not done it before. If you would like instructions we recommend you purchase our illustrated step by step sourcelet look below to read more.
PLEASE NOTE: 126 300SD Models have two different size alternator belts. To order you can not always go by engine number as engines have been changed or pulleys get changed. You can not always go by length since the numbers are often worn off or old belts damaged. Kent finally decided to solve this problem once and for all by including both sizes of belts in this kit. Yes, he knows you will end up with two extra belts you will not need, but the alternative is far worse as many of our customers have learned. ie - order the wrong part, get the car torn apart and then have to wait for another order of belts to arrive. The alternator belt sizes in this kit are 10 x 1035 and 10 x 1000. We include 2 each for peace of time, minimum down time and frustration free installation. If you have an old belt just compare it in size to either of these belts to determine correct one to use! Hang the others on your garage wall to look good... :-)
 
Related Products:
---