Covers theory of operation - complete service and repair, and installation tips of this critical unit. Part 2 of Broken Sunroof Series
The sunroof transmission drive unit moves the cable back and forth to open and close the sunroof. There are 5 gears inside this unit that transfer the incoming drive from the motor ( high speed) to the final drive moving the cable (slow speed). If this unit becomes over stressed due to lack of lubrication in the sunroof panel mechanism gears can break or strip or the cable itself can be damaged.  It is VERY important that this unit be inspected and properly serviced just because it NEVER gets done - even by so called professional mechanics. 
1961 to 1980 Power Sunroof Cable Transmission Drive Unit Service and Repair - On Demand Video
$9.99
On Demand Video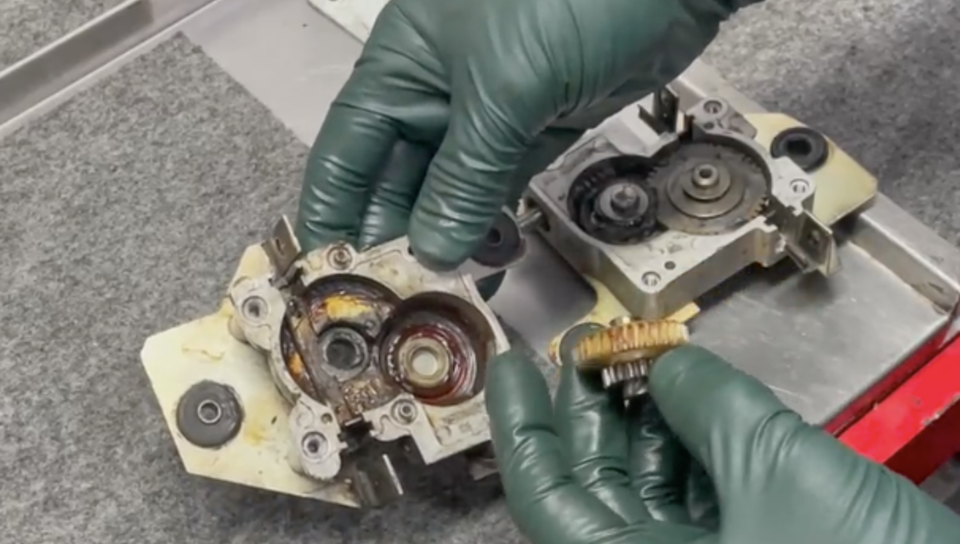 Product Details
In this 12.5 minute instructional video Kent will take apart one of these units and will explain what each gear does and how everthing should do together. You will get to see a broken gear repaceed and the entire unit properly lubricated and reassembled in preparation for going back into your trunk. At the end of the video he will share some installation tips and demonstrate how to set the clutch adjustment for future installation of the cable and sunroof panel.
---
How to view this on-demand video:
Once you complete the purchase of this video you will be able to view it immediately when you are logged in and on your personal account page (click on My Account). The video(s) will show up under My Video Manuals. The video is NOT downloadable to your computer or mobile device, but you will be able to view it anytime, from anywhere and from any device as long as you have internet access and you are logged in to your account at mercedessource.com.
Important note: This video manual may or may not include all the information you will need to troubleshoot and/or repair your specific problem/s. Please read the full description carefully to determine if this video is applicable to your year and model and contains the information you are looking for. If not, please refer back to our "Solutions Finder" and enter your chassis number and the specific problem you are having to see if we offer a solution.