For 1973 to 1980 107 and 116 Chassis, 1973 to 1976 114 and 115 Chassis SEDANS, and 1977 to 1980 123 Chassis
Here is a great way to save some money repairing your old Mercedes vacuum door lock actuators. When they go bad it is almost always due to cracks in the rubber diaphragms. These can be easily replaced once you remove your door panels and remove the units.
1973 to 1980 Vacuum Door Lock Actuator Diaphragm Repair Kit
$74.95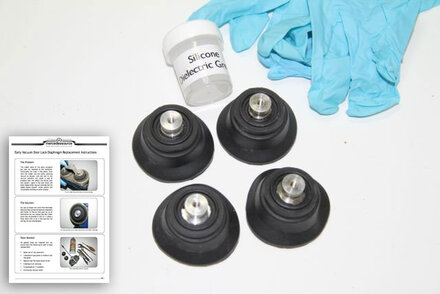 Product Details
This kit is sold with a set of 4. Four are required per actuator on the W116 and W123. These chassis have three actuators located in the left rear door and both front and rear right-side doors. There is no way to tell how many rubber diaphragms you may actually need until you remove the actuators, inspect and test them.  On some cars, you may only need to replace one or two. On other cars, you may have to replace all. If you would like to order additional diaphragms individually look below.
The KIt also comes with a small container of dielectric silicone grease. You can use that grease to help soften and preserve some of your old diaphragms. Gloves are included as well as complete instructions for changing out the rubber parts. NOTE: Instructions for removing the door panels on the various models are not included. See my other manuals for information on door panel removal.
WARNING: These DO NOT work on the trunk lock or gas door actuators!
_______________________________________________________________________________
How to view the PDF digital instructions:
Once you complete the purchase of this product you will be able to download the digital instructions immediately when you are logged in and on your personal account page (click on My Account). Any PDFs will show up under My PDF Manuals. You will be allowed three downloads, so please save the file on your machine for backup.
_______________________________________________________________________________
Here is an actuator with torn diaphragms removed from a door from a 116 chassis 280S 280SE 350SE 450SE 450SEL 6.9 and 300SD ( note 2 rubber diaphragms on top and two on the bottom. This is similar to the 123 chassis 240D 300D 300CD 300TD 280E and 280CE 1977 to 1980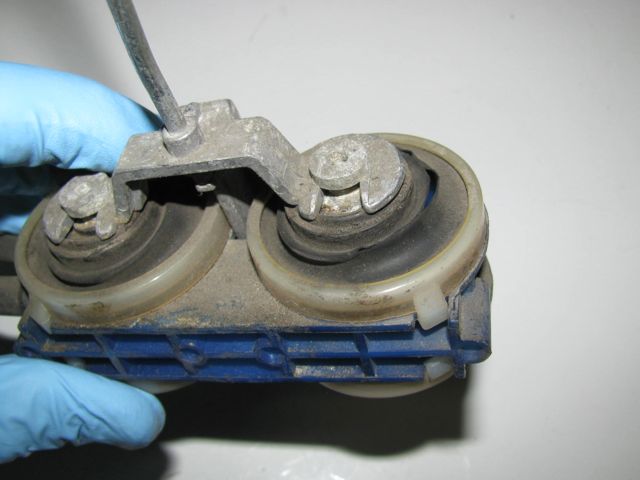 Below is an actuator from a 114 and 115 SEDAN 1973 to 1976 ONLY. (Will not work on 2-door coupes). When they go bad it is almost always due to cracks in the rubber diaphragms. Note on these cars on two diaphragms are used per actuator. The 1972 to 1980 R107 350SL and 450SL are similar to the 114 / 115. The right side door on these convertibles has an actuator with only TWO rubber diaphragms. 
450SL right side door actuator:
Here is a right door lock actuator with new diaphragms installed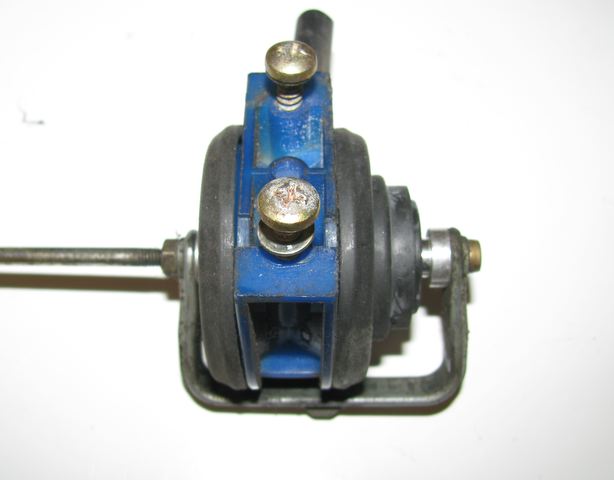 Related Products:
---