For sedans, coupes and wagons last two years of production only
For you 124 owners cabin air filters have been somewhat of a mystery. Parts application information in many auto parts stores don't seem to be accurate and many are not even sure where they are located. Some owners may even think it is just to hard to change them. These may be the primary reasons they hardly ever get changed.  They are easily located and can be changed in 30 to 60 minutes. Two fitlers are required as shown.
1994 and 1995 W124 Cabin Air Filter Replacement Set
$19.85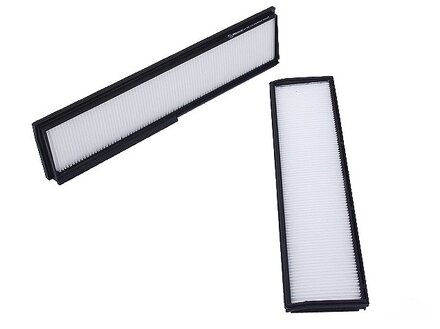 Product Details
Kent will explain in this video where they are located, how to confirm your W124 has them, and how to properly remove and replace the pair together.
In all the cars where we have removed cabin air filters over 80 percent look like this. In fact Kent has never seen a reasonably clean cabin air filter in a 15 plus year old car. CHANGE YOUR CABIN AIR FILTERS FOR YOUR HEALTH!