Are you converting your W215 OR W220 from ABC to coil-over suspension? Get rid of the old heavy tandem bump and extra tanks.
I know that many, including some coil-over sellers, recommend just leaving the original pump and hoses in place and plugging them where they attach to the four struts, but I can almost guarantee you will have problems in the future, either with a noisy failing pump, leaking hydraulics, or a possible pump seizure affecting your existing power steering. And besides, you are wasting engine power by having it drive that heavy pump! This pump will replace that heavy, troublesome pump with an original-style non-ABC pump and reservoir tank for the 2000 to 2006 CL215 and W220 with ABC. 
2000 to 2006 CL500 AND S500 ABC Conversion - Standard Power Steering Pump and Tank Upgrade Kit
$210.00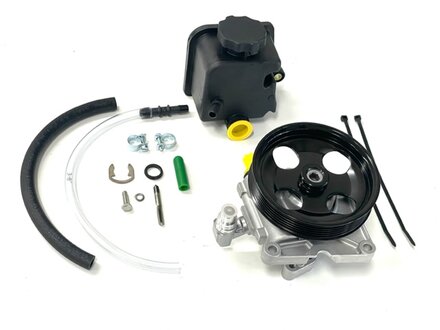 Product Details
Once you remove the ABC pump, this new pump will bolt right to the engine without bracket or alignment modification. The pulley lines up with your other pulleys, and the original belt can be used. IMPORTANT: The instructions that come with this kit were filmed doing this upgrade on an R230 SL500 during an ABC delete. So there may be some differences when you take on this job on your W215 or W220, but the principles are the same EXCEPT for the power steering hose hookup.
The reservoir tank will fit on the front of your M113, but you will have to tap a factory hole already there to secure the tank to the engine block. A correct-sized 6mm tap is included in the kit. 
PLEASE READ CAREFULLY: When you mount the pump and tank on the front of your M113 engine, you will discover that the power steering hose will not reach the pressure outlet on the hose. You have two options to solve this challenge.  1. Tank the P.S. hose off and take it to a hydraulic shop to modify it. 2. Purchase a new power steering hose from a Mercedes dealer for a non-ABC W215 or W220. We DO NOT sell this hose assembly but will share a picture and a part number. Part # 220 460 23 24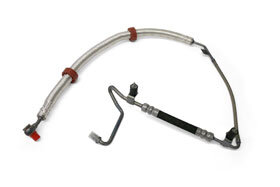 The plastic tank mounts directly to the top of the new pump.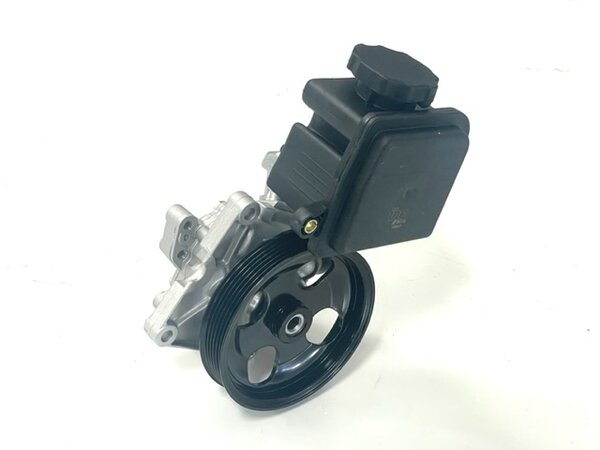 Related Products:
---