For all 201 chassis 190E and 190D built from 1984 to 1993
For all 201 chassis 190E and 190D built from 1984 to 1993. This repair guide will take you through the process of how to properly remove your heater blower motor and replace the motors two brushes. This is the most common reason for failure. If your blower motor has been intermittent or some days it wont come on until you drive for a while your motor brushes are most likely at the end of their life. This is something you may just want to replace as a preventative measure. Heater motor brushes that are 15 years old or older are very prone failing at any time. If it has not failed yet it most likely will sometime soon.
201 Chassis 190E 190D Heater and A/C Motor Repair Kit with Brushes - Manual by Kent Bergsma
$23.95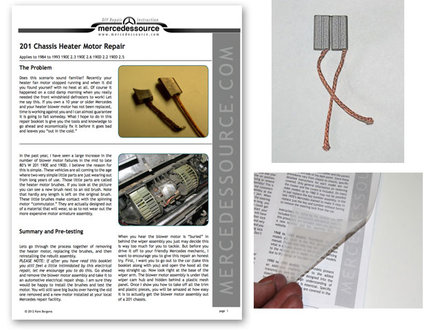 Product Details
Along with this detailed instruction guide (Instruction manual is printed and bound in 8.5x11 format.) I will provide you with a set of new brushes (which I have diligently sourced). You will need a soldering iron and a few common hand tools to complete the job. If your car has a over 120,000 miles on it or you know the heater motor has been run a lot, the best time to do this job is now! Do not wait for it to quit on you on a cold winter morning. 
IMPORTANT: If you are planning to replace your heater motor brushes I highly recommend you have a high output soldering pencil on hand. If you don't, then I recommend you purchase the one we sell on our website. It is a powerful 60 watt unit and works great! Look below to view our soldering pencil. 
Related Products:
---