Better shifting performance for 1980 to 1985 240D 300D 300TD 300CD and 300SD
Fits 123 and 126 diesels with vacuum dashpot, most models 1980 to 1985. This green dash pot is located right above your transmission vacuum control shifting valve which is located on the rear of your fuel injection pump. The purpose of the dash pot is to stabilize pulsation of vacuum being delivered to VCSV. This is not a checkvalve. Vacuum can pass through it both ways so it can be connected either direction. If it is missing or leaking it can cause inconsistent or abrupt shifting of your automatic transmission.
616 617 Diesel Transmission Vacuum Shift Valve Dashpot Upgrade
$12.25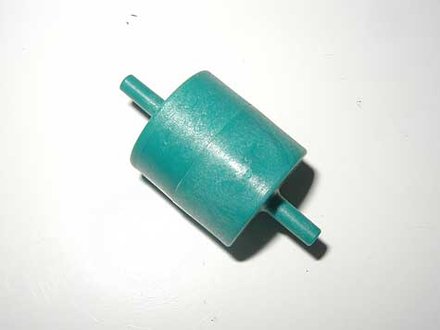 Product Details
UPGRADE FROM ORIGINAL PART: Please note this is a larger version of the original part.  It is larger is size which allows it to better modulate vacuum fluctuations.