Fits 1978 to 1985 5 Cylinder Turbo Diesels only 300D 300CD 300TD 300SD
Rebuilt 65 amp alternator without pulley. Includes fan and voltage regulator. You will need to install the pulley from your existing alternator. No Core charge. No hassle trying to have to ship back your old one. If the commutator rings are severely worn and grooved a new voltage regulator may fix the problem but not long term. Plan to replace the alternator.
617 Turbo Diesel Rebuilt Alternator - NO Core Charge - Yeah!
$168.50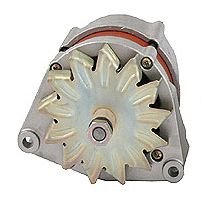 Product Details
Only one available.  This is from Kent's horde shelf and he does not need it.